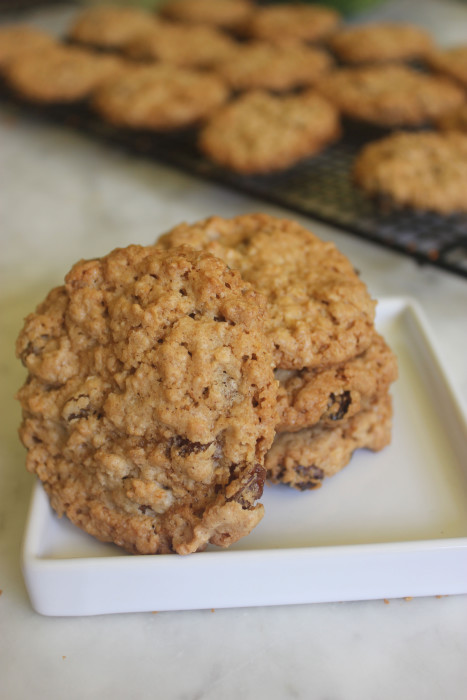 By now you may have heard about management changes at Cooks Illustrated magazine. While who running America's Test Kitchen is not your most important priority in life, the quality of their recipes just may be quite important. Many of us look to Cooks each month for the best in both recipes and the cooking science explanations that tell us why the recipes work.
So, Suzi and I ran a test. She made the cookies and I tested the batter. What better test recipe than a classic cookie? It's a key test because cookies are baking and baking is the most demanding of kitchen activities, both art and science. This cookie is even named classic. And, it tastes like those old-fashioned, delightful oatmeal cookies that made you smile as a kid.
These cookies are also called chewy, and the Cooks article explains why. A cookie can be cakey in nature or chewy. The difference is in the fat content. More saturated fat, like butter, will produce a tender texture while more unsaturated fat, like vegetable oil, creates a more chewy texture. This cookie has both butter and oil, and, as a consequence, is delightfully chewy. And that ¼ teaspoon of cinnamon comes through, with a quiet subtle force.
If you love oatmeal cookies, and want that perfect texture, then get some butter, get some vegetable oil, and get some cinnamon.
Regular old-fashioned rolled oats work best in this recipe. Do not use extra-thick rolled oats, as they will bake up tough in the cookie. For cookies with just the right amount of spread and chew, I strongly recommend that you weigh your ingredients. If you omit the optional raisins, the recipe will yield 18 cookies.
---
Classic Chewy Oatmeal Cookies

Yield: 20 cookies

Ingredients:

1 cup [5 ounces] all-purpose flour
¾ teaspoon salt
½ teaspoon baking soda
4 tablespoons unsalted butter
¼ teaspoon ground cinnamon
¾ cup [5 ¼ ounces] dark brown sugar
½ cup [3 ½ ounces] granulated sugar
½ cup vegetable oil
1 whole egg
1 large egg yolk
1 teaspoon vanilla extract
3 cups [9 ounces] old-fashioned rolled oats
½ cup raisins, optional
Preparation:

Adjust oven rack to middle position and heat oven to 375 degrees. Line 2 rimmed baking sheets with parchment paper. Whisk flour, salt, and baking soda together in medium bowl; set aside.
Melt butter in 8-inch skillet over medium-high heat, swirling pan occasionally, until foaming subsides. Continue to cook, stirring and scraping bottom of pan with heat‑resistant spatula, until milk solids are dark golden brown and butter has nutty aroma, 1 to 2 minutes. Immediately transfer browned butter to large heatproof bowl, scraping skillet with spatula. Stir in cinnamon.
Add brown sugar, granulated sugar, and oil to bowl with butter and whisk until combined. Add egg and yolk and vanilla and whisk until mixture is smooth. Using wooden spoon or spatula, stir in flour mixture until fully combined, about 1 minute. Add oats and raisins, if using, and stir until evenly distributed (mixture will be stiff).
Divide dough into 20 portions, each about 3 tablespoons (or use #24 cookie scoop). Arrange dough balls 2 inches apart on prepared sheets, 10 dough balls per sheet. Using your damp hand, press each ball into 2 'A-inch disk.
Bake, 1 sheet at a time, until cookie edges are set and lightly browned and centers are still soft but not wet, 8 to 10 minutes, rotating sheet halfway through baking. Let cookies cool on sheet on wire rack for 5 minutes; using wide metal spatula, transfer cookies to wire rack and let cool completely.
---
Source: Cooks Illustrated, October 2016

Photo Information: Canon T2i, EFS 60mm Macro Lens, F/4.5 for 1/40th second at ISO‑160