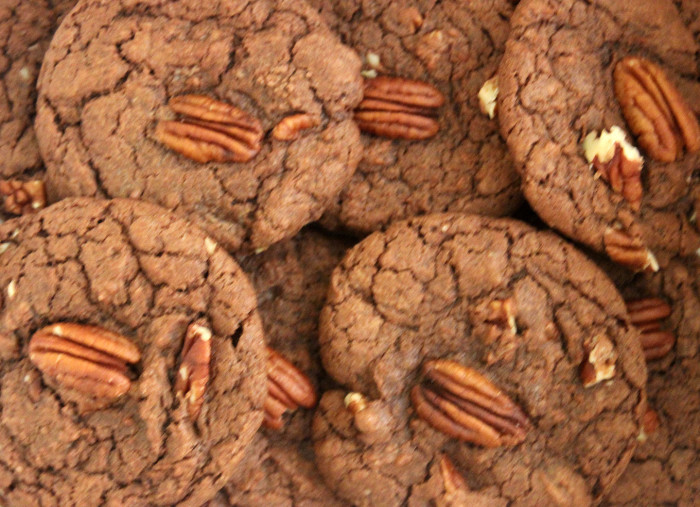 On Sunday, while watching the Super Bowl, you may tire of the salsa, the nachos, the wings … You may want something intensely sweet. Here's a cookie from One Bowl Baking that gives you fudgy texture, some nuts, and relief from the Mexican spices rolling around in your mouth.
Even on a not Super Sunday, these are delightful cookies.
---
Cookies are part of our lives. Almost from the start. You don't eat cookies, now, at all? Ever?
What about when you were teething decades ago? You got a cookie/cracker to gnaw on. There were animal crackers with milk at school. And everybody has at least one Oreo in their life. There just cannot be such a thing as an Oreo virgin. Okay, if you are allergic to chocolate, you may have escaped the Oreo but surely your life's path was paved, in part, with cookie crumbs.
Given their ubiquitous presence of cookies in our lives, we all can appreciate the range of quality we've encountered. Mostly okay, some good, but in truth just a few can be labeled great. How do you know a great cookie? At first bite. There's just something there. Like that girl across the room.
So, this cookie, from One Bowl Baking, is deservedly in that love at first bite category. This is a great, exceptional, wonderful cookie.
Author Yvonne Ruperti compares this cookie to a brownie and calls it that, too. There is a brownie flavor and texture, I admit, but I think this cookie is more. I love soft chocolate cookies and I love thin cookies [and thick ones too]. The issue is that softness is often correlated with that thickness. It is hard to fashion a cookie that is both soft and thin. Most often, the baking process just naturally turns thin cookies into firm wafers.
Not here. The brilliance of this recipe is the ratio of sugar to flour and the placing of the cookies on the baking sheet. In a standard brownie recipe, the ratio of sugar to flour is typically 2:1. Here it is 1:1. The cookie dough is shaped into balls, about the size of a golf ball, and when baking starts they don't immediately collapse. But over time, with that extra flour, the cookies gracefully settle in thin rounds.
When you bite one, it is soft, succulent and just chocolaty enough to make you sigh in pleasure.
The recipe says you get twelve 3½ inch cookies. You do. That batter spreads. So you have to exercise care in spreading the cookies out on the baking sheet. They will truly cover, if not dominate, every square inch of a half sheet pan. If your oven will accommodate a full sheet pan, that is that safer route. If you use a half sheet and some of the cookies spread into each other, I'm afraid the only solution is to take those misfits, eat them, and bake another batch.
I said this cookie was exceptionally good. Not perfect.
The premise of One Bowl Baking is to achieve superior products with minimum mess. That's exactly what occurs with this recipe. If you have a child or grandchild who has been cookie deprived, this is a wonderful way to cook with them and show them what wonders can be achieved in your own kitchen.
The title has "walnut" in it. As usual, personal preference went to pecans. Our portfolio probably includes pecan stocks.
---
Fudgy Walnut Brownie Cookies
Yield: twelve 3½ inch rounds
Ingredients:
4 tablespoons (2 ounces or 55 grams) unsalted butter, cut into cubes
4 ounces (115 grams) unsweetened chocolate, finely chopped
1 cup (7 ounces or 200 grams) granulated sugar
½ teaspoon salt
1 teaspoon vanilla extract
2 large eggs
1 cup (5 ounces or 140 grams) all-purpose flour
1 teaspoon baking powder
¾ cup walnuts (3 ounces or 85 grams), chopped, divided [pecans or other nuts can be readily substituted]
Preparation:
Place an oven rack in the middle position.
Preheat the oven to 350°F (180°C). Line a sheet pan with parchment paper.
In a large heatproof bowl, heat the butter and chocolate to just melted, stirring frequently.
Stir in the sugar, salt, and vanilla. Stir in the eggs, one a time, until completely mixed in.
Add the flour and baking powder to the bowl, then stir to combine. Stir in half of the chopped walnuts.
Scoop the batter into 12 balls, spacing evenly on the pan. Sprinkle the remaining walnuts over the top of each cookie.
Bake until the cookies are puffed, cracked, and barely set, about 8 minutes. Do not overbake.
Let the cookies cool on the pan for 5 minutes, then transfer to a wire rack to cool.
---
Sources: One Bowl Baking by Yvonne Ruperti
Photo Information: Canon T2i, EFS 60 mm Macro Lens, F/5.6 for 1/10th second at ISO-3200