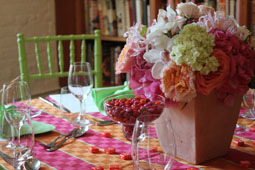 Summer is the season for weddings. And every wonderful wedding needs a charming bridal shower. All showers have food, but how about having great food and fun along with memories that truly will last a lifetime? Enter Cooking By The Book.
We've taken our favorite team building exercises and transformed them into perfect, delicious Bridal Showers. You and your guests will cook a rich three course dinner in our showroom kitchen. Water and soft drinks are supplied, as well as a bountiful round of appetizers before the cooking begins. If you're planning on intense celebrating, make sure to bring your own wine! Your event includes all food, instruction, your recipes and photos that you will treasure. We'll have the recipes and photos online for you in a private folder on our website.
If you book now and mention the code phrase "bride apron," you will receive a complimentary, personalized apron for the bride to be!
We are offering shower events for $100 per person plus gratuity and tax with a minimum of 12 guests. We're happy to discuss additional features such as matched wines or a celebration cake.
Our summer is already underway at CBTB, and each week we are sharing these special moments with the brides to be and their dear friends. Here are some photos of a recent shower to give you a flavor for how much fun awaits you…