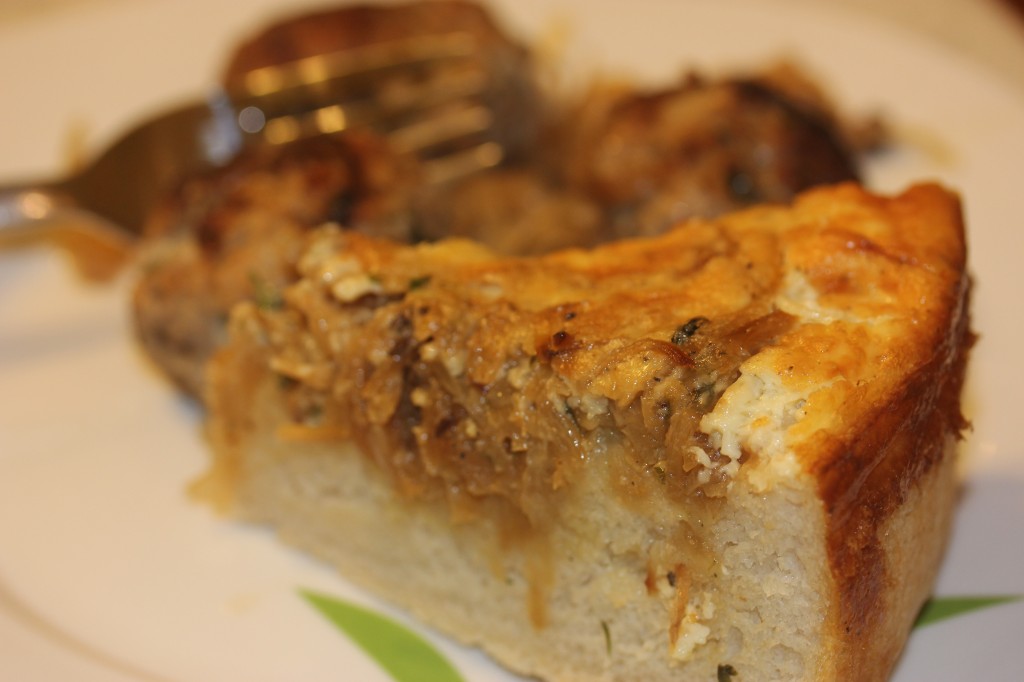 Yesterday I noted that Oktoberfest is still underway at Cooking by the Book. On Friday, September 28, we will feature that "other" Oktoberfest beverage: German wine. Specifically a wonderful flight of Rieslings from the great German producer Prum. Yesterday's post was about one of the menu items for Friday, German Meatballs. You see them there in the background of the second picture. But prominent in both these shots is a German Onion Pie that is unlike anything you have probably every had.
On Friday, this Small Bite Big Sips wine class, we celebrate the unique flavors of fine wines from Germany's renowned Mosel Valley. In an entertaining and non-intimidating setting, we will guide you through the challenge of understanding German wine labels, and take you on a journey through the various styles of German Rieslings, from dry to sweet. You will experience Grand Cru wines, as well as Kabinett, Spatlese, Auslese and Eiswein (and learn how to pronounce them!). All are specially selected gems from the S.A. Prum cellar, a family-owned wine estate that has been making sought-after wines since 1911.
Gregarious S.A. Prum estate owner Raimund Prum and his wife Pirjo will lead the discussion and tasting, and the wines will be paired with a delicious German-inspired menu.
That German-inspired menu includes this German Onion Tart. This is a cold weather dish, usually offered when the "new" wine first comes to the table. Unlike many tarts or traditional quiches, this dough is yeasted, thick and chewed. Just add a salad and you have a most satisfying meal.
We hope you can join us this Friday for our class. To register for the class, please visit:
German Onion Pie
Yield: one 11" pie
Ingredients:
For the dough:
3 cups flour
1 cake yeast (17 grams) or 1 1/2 tsp. instant
1 teaspoon salt
1 ⅝ cup lukewarm water
For the filling:
2.2 pounds [1 kilogram] or about 4-5 yellow onions
3 tablespoons oil
For the custard:
3/4 cup cream, part crème fraiche if you have it
1/2 teaspoon salt
1 egg
1 egg yolk
Freshly ground nutmeg and/or pepper
½ to 1 teaspoon caraway seed (optional)
1 tablespoon cooked and crumbled bacon (optional)
Preparation:
Start by making the dough. I prefer mixing instant yeast and salt into the flour and then adding the warm water and mixing until a smooth dough forms, but make it the way you like best.
The Germans often start it by crumbling the yeast into a depression in the flour, adding the liquid and lightly mixing, sprinkling with flour and proofing the yeast that way.
You can also proof the yeast separately by dissolving in the lukewarm water with a pinch of sugar. It takes 10 – 20 minutes for bubbles to form.
After the dough is smooth and elastic, form it into a ball, oil the surface and let it rise in a bowl covered with a clean dishcloth in a warm place until doubled, about 1 hour.
While dough is rising, make the onion filling. For the picture, I sliced the onions vertically, but some people prefer to cut them smaller. Heat at least half the oil in a large pan, add the onions and sauté over medium heat, adding oil as necessary to coat all onions. Cook for about 20 minutes and remove from heat before they start to brown significantly.
You may also start with 4 slices of bacon (or 75 grams of Bauchspeck), cubed and browned. Remove bacon and add onions to bacon fat. Do not add as much salt to the final dish.
Mix the creams, salt and eggs to form a custard base. You can add freshly ground nutmeg or pepper to the mix, if you wish.
Press the dough into an 11 inch, buttered spring form pan or into a buttered 11 x 13 inch baking dish, being sure to form high sides.
Distribute the onions over the dough. Sprinkle with caraway and cooked bacon. Pour the custard over the top and tilt to distribute evenly.
Bake in a heated, 350°F oven for 40 minutes or until custard is set and yeasted dough is browned.
Remove from oven and serve warm.
Source: www.about.com