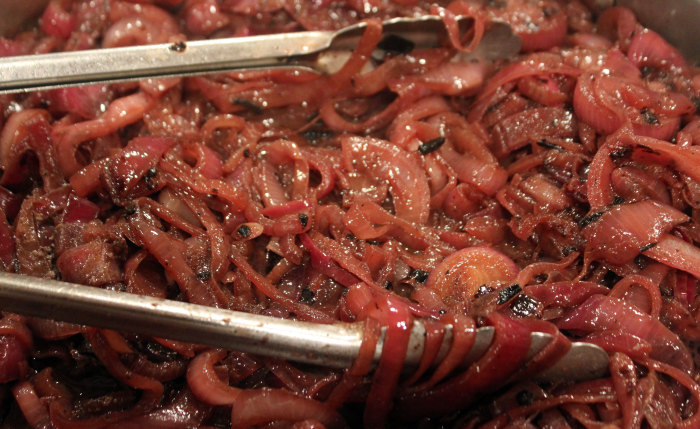 Okay, you are going to object to the phrase "onion marmalade" because you make marmalade with oranges, which is why you technically say "orange marmalade."
I am happy to say that you are wrong. By centuries. The very, very first marmalade was made by the Romans cooking quinces with honey. The Romans knew how to build an empire, but they did not know about pectin. The quince-honey mixture just "naturally set" and a food tradition was begun.
Over the centuries, more kinds of fruit preserves were made, first in Byzantium and then, in later centuries, across Europe. By the 17th century, "marmalade" was a term that could now mean a citrus based concoction beyond that original quince-based preserve. Today citrus marmalades are the dominant form. And of those, orange marmalade is the most prominent.
Prominence can occur because of accident. A ship filled with oranges broke down in the harbor of Dundee in Scotland. The Scots, ever clever and thrifty, took the oranges and crafted orange marmalade which took all of England by storm.
So, when Suzen found this Red Onion Marmalade recipe she knew she was on safe ground, sort of. Caramelize the onions and you have something "almost" citrus. Very almost.
What is this marmalade good for? No, I don't think buttered toast in the morning. But we served it atop steak, and with other proteins too this onion confection is the perfect mate. Either served on top or on the side, the onions are as intense as the photo displays. It's a quick dish, easily prepared from start to finish in less than an hour. You make this by the boatload, then refrigerate and enjoy the next day.
Speaking of the next day, Suzen made steak sandwiches on homemade bread with mayo and this onion measure. I think this sandwich is one even a Scotsman would embrace with relish.
---
Red Onion Marmalade

Yield: serves 4

Ingredients:

3 tablespoons butter
3 red onions, cut in half, then cut into ¼ inch wide slices
¼ cup sugar
1 cup dry red wine
¼ cup red wine vinegar
Kosher salt and freshly ground black pepper
Preparation:

In a large sauté pan over medium-high heat, melt the butter. Add the onions and sauté until they begin to soften, about 5 minutes. Reduce the heat to low and continue cooking until onions are tender, about 12 minutes. Sprinkle sugar over the onions. Add the wine and vinegar and bring to a simmer. Simmer until the liquid evaporates and the mixture becomes slightly syrupy, about 15 minutes. Season the marmalade to taste with salt and pepper.
Keep warm until serving.
Source: Bourbon: Curtis Stone

Photo Information: Canon T2i, EFS 60mm Macro Lens, F/4.5 for1/60th second at ISO 2500