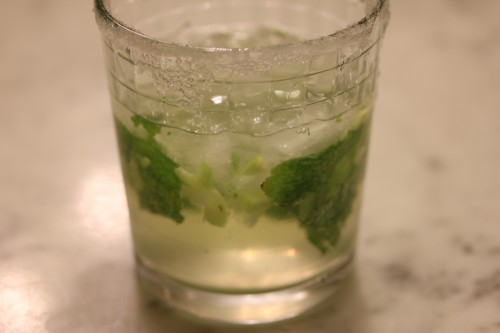 It can be a bit of a challenge to come up with a flavorful cocktail in short order. A bartender is trained to do it, but at home we tend to move a bit slower. If you want a cool beverage, now and with no fuss, where can you turn?
This idea uses ingredients readily at hand: some mint, some cucumber, vodka and club soda.
The original recipe calls for a 12-ounce glass, but I like a smaller 8-ounce one. That means, necessarily, that when you top off with club soda, there's less room for the soda and less dilution of the vodka-cucumber-mint component. I don't like my drinks watered down, literally, so I'm happy with this more intense version.
The technique here calls for muddling the mint in the glass. I will admit that I am not a good muddler. I muddle through, but I just never seem to grind the mint all the way down. My solution here is to quarter the mint leaves to get a head start, then put 2 teaspoons of superfine sugar in the bottom of the glass. Yes, the drink is sweeter. But, also yes, the grit of that sugar enables you to chew up the mint.
Lastly, if your cucumber is filled with seeds, then of course scoop those out before finely chopping.
Cucumber Mint Splash
Yield: 1 drink
Ingredients:
Sugar for rimming
4 fresh mint leaves
One 2-inch-thick slice of peeled cucumber, finely chopped
Shaved ice for filling the glass
1 1/2 ounces vodka
Club soda
Preparation:
Pour sugar into a saucer. Moisten the rim of an 8-ounce glass and dip in the sugar to coat the rim. Muddle the mint leaves in the glass. Add the cucumber.
Fill the glass with ice. Add the vodka and top off the glass with club soda.
Stir and serve.

Source: The Seven Stars Cookbook