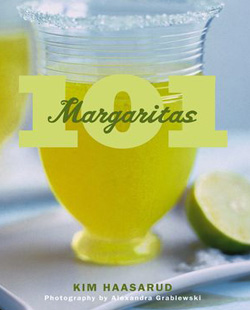 This is the first blog is a new series devoted to mixology.  After chocolate, my favorite passion is mixing cocktails.  In these blogs, I'll focus on great beverage ideas, discuss options for crafting the best in cocktails, and share some of the best references for finding terrific drinks.
Let's start with a terrific combination: guilt and redemption.
For years I have been making really good margaritas.  Well, almost margaritas.  I've been adding a special ingredient and doing a certain twist on the classical recipe.  Suzen would say, "This is great!  What did you do?"
I am ashamed to admit that I would answer her with, "It's the tequila."  I never had the courage to look her in the eye and admit, "It's the sugar."  Yes, sugar in a margarita.  Technically, sugar syrup.  But it's sugar.  And I even used lemon juice instead of lime.  I felt guilty.  I had desecrated the classic recipe.  But, God, was it good.
Now, I am redeemed.  By two serious beverage experts, not just one.  Both Kim Haasarud in 101 Margaritas and Lucy Brennan in Hip Sips recommend sugar syrup in their classic margarita recipes.  And both suggest using a mixture of half-lime and half-lemon juice for the tart part.  I am not a drink defiler.  I am an accidental mixologist.
I've reviewed Hip Sips in an earlier bog.  101 Margaritas is part of Haasarud's wonderful series of 101 drinks: Sangrias and Pitcher Drinks, Champagne Cocktails, Martinis, and Margaritas.  Kim's very first recipe in 101 Margaritas has that sugar syrup and lemon-lime mix.  A professional mixologist, Kim has a web site you'll enjoy: liquid-architecture.com.
I've tried her classic margarita several times and found it to be exceptional.  Ah, you may think of margaritas as, well, some sloppy party drink.  Not something with sophistication.  You, too, need some redemption.
First, there's the matter of tequila.  Yes, for a summer party with twenty people, you want that bottle of $9.99 for the bucket of margaritas that folks will consume along with their chicken wings and sliders.  For yourself and your spouse, you want better.  I made Kim's drink with anejo [aged] tequila that runs about $49.99 a bottle.  When you use great tequila, the beverage you create will remind you of margaritas but it will truly surprise, please and even astound you.  Once you've tried it, you'll never want the "old" margarita again.  This one is rich, subtle and just divine.  In terms of quality, it's a match for any drink you've ever had.
Here is Kim's recipe for a Classic Margarita:
2 ounces tequila
2 ounces simple syrup
1 ounce Cointreau
1 ounce lime juice
1 ounce lemon juice
Combine in a shaker with ice, shake and pour.  [I like my class rimmed with, not salt, but sugar.  You may be aghast at that but think of me as being very consistent.]
There's so much more to write about margaritas.  Coming up in the next Dedicated Drinker's Diary: should you use Cointreau, or Triple Sec or …  And, what about that old "1-2-3" recipe that calls for 1 part citrus juice, 2 parts orange liquor, and 3 parts tequila?  Look for our next blog!
Oh, yes, sugar syrup.  Here's how to do it.  In a sauce pan put 4 cups of sugar and 2 cups of water.  Stir to mix over low heat, then raise the heat to high.  Bring to boil, hold for one minute, and then reduce the heat to simmer for two minutes.  Turn off the heat, allow to cool, and then enjoy.