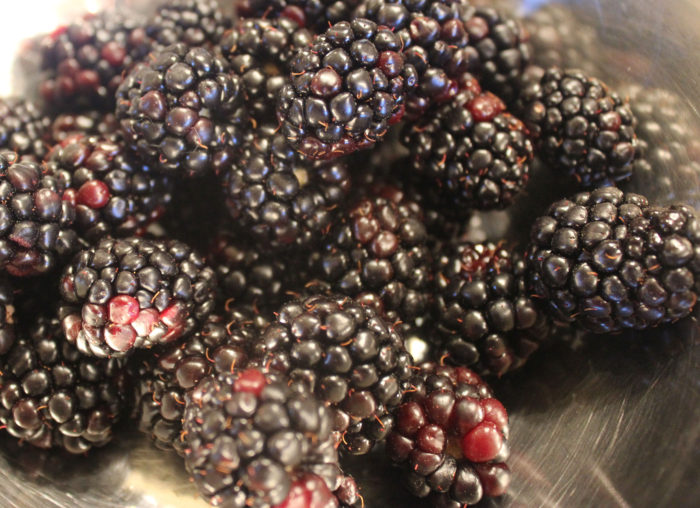 Growing up in Oregon, we had lots of strawberries, and a few raspberries. But if you wanted blackberries, you had to own some land of your own and compete with the bears to pick them. Now blackberries are here for all of us to enjoy. There is nothing better than biting into a blackberry with a touch of sugar. Unless you prefer to drink yours.
From a few years ago, here's a TBT recipe with doubled potency: blackberries and tequila!
---
I can't put down the Summer Cocktails book. The titles of the drinks intrigue me. And the recipes are fantastic. So, I've put stickies on another 25 drinks. Seriously. And I entered the entire list of them in Excel with a column for the key ingredient that goes in each drink.
No, I am not sick or geeky or obsessive. I am very focused.
And, if you try this cocktail, you will thank me. My Excel spreadsheet told me I needed blackberries. The blackberry season here in the Hudson Valley will soon be over, and I wanted to try this drink before the blackberries disappear. And before next weekend: it is Chelsea Clinton's wedding and next Sunday in Rhinebeck will be security hell. On Sundays, Rhinebeck has a small, elite, perfect farmers market.
A farmers market with blackberries.
The title of this drink, Backyard Blackberry Margarita, implies that you need fresh blackberries. Not days old from the supermarket. Not thawed from your freezer. Fresh. Picked no older than yesterday.
And, I was enthusiastic because this recipe calls for champagne. In a margarita? It's all too intriguing to pass up. You make this drink by the pitcher and it goes down perfectly. The primary flavor here is still the tequila, but there is a lovely ruby color from the blackberries, a touch of blackberry flavor of course, and the fizz of the champagne. It's a splendid drink.
Before your summer ends, or the Secret Service shuts down your local marketplace, get some berries and enjoy this delight.
---
Backyard Blackberry Margarita
Yield: serves 6
Ingredients:
1 pint very fresh blackberries
9 ounces simple syrup, chilled
9 ounces fresh lime juice, chilled
3 ounces triple sec, chilled
18 ounces blanco tequila chilled
0ne 375-ml half-bottle of champagne, chilled
Garnish: thyme sprigs
Preparation:
In a large glass pitcher muddle the blackberries with the simple syrup. Add the next three ingredients, stir, and strain through a fine mesh sieve into a punch blow. Add a large block of ice and toss with the champagne. Serve in wine glasses filled with ice. Garnish with the thyme sprig.
Changes and Considerations:
Blanco tequila here is vital. If you use the amber-colored stuff with the cool flavor, your drinks will be muddy colored. The berry color needs to come through.
When I made this, I used Proseco instead of champagne. It's my sweet tooth, again. Suzen found the beverage to be "strong" which it certainly was. Next time I make it, I'm going to use a full 750-ml bottle of Proseco. The tequila will still come through but that first wallop to your mouth will be muted. You can experiment with Proseco versus champagne and the proportions to your own delight.
---
Source: Mr. Boston Summer Cocktails by Anthony Giglio and Jim Meehan