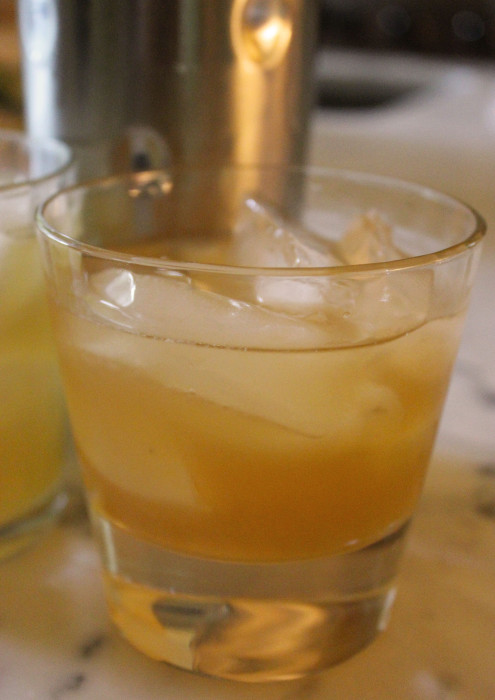 When I blogged a general overview of Pitt Cue Co: The Cookbook, I did mention this cocktail. It's accompanied by a full page picture with two hands holding a very big glass. I took that to be a warning: this drink is full flavored, full bodied and perhaps best consumed on a day when you are not traveling to and from work.
So, I am posting this on a Saturday, with the proviso that you do not attempt this beverage until all Saturday trips for soccer, baseball, football, swimming, dance, judo and ballet are over.
I sometimes wonder who is more exhausted after a weekend: parents or kids. It used to be you left for work on Monday morning rested. Now you leave the house to recover.
Well, I suggest this beverage for an early recovery. I made this drink, served it to my bourbon loving wife, and received a kiss. That's success.
The only change I made to the recipe below, was to use a niche Orancello instead of Cointreau. I traded sweetness for intensity. Of course, to recover sweetness, my "dash" of sugar syrup was ½ ounce in terms of the proportions below — 1 ounce when I made the actual drink.
To get that full glass in the picture, I did double the recipe you see below. I'm not sure why, cookbook recipes for individual cocktails have the liquor ingredients coming in a ½ to under 2 ounces. Never 2 or more. I find myself doubling down for one drink and multiplying by 4 if Suzen and I are both drinking.
Our calculator sits right next to our digital scale.
---
The Side Truck

Yield: 1 small cocktail [double to simulate the picture]

Ingredients:

1 ¼ ounces bourbon [good bourbon, no plastic bottles]
1 ounce Cointreau
1 ounce fresh lemon juice
1 dash orange bitters [1 dash = 4 drops in my world]
Dash sugar syrup
Orange slice [optional garnish]
Preparation:

Shake all the ingredients in a Boston shaker with ice, and strain over ice in an old fashioned glass. Garnish with a slice of orange if you like.
---
Sources: Pitt Cue Co.: The Cookbook Photo

Information: Canon T2i, EFS 60 mm Macro Lens, F/4.5 for 1/20th second at ISO-3200