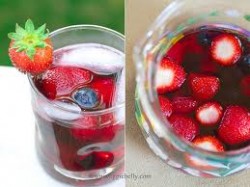 It's Father's Day. And I am posting this late, but this idea will be perfect for any Sunday afternoon from now until the snow flies.
Sangria is one of those terms that can inspire delight or disgust. The bottled "sangrias" you can buy are generally lamentable, distant and very poor cousins to something freshly made with fresh fruits and the right level of sweetness.
The choice of which fruits to add to your wine [red or white] and how much is very much up to you. I like to make my sangria with what is "fresh" and available now. And now is peak berry season.
The trick with a berry sangria is how to extract the flavor. If you are using apples or peaches or lemons or limes or oranges, that is not a issue. You just slice them up. Berries are different. You want the flavor of, say, blackberries, but you do not want mush and you certainly do not want to spend time slicing individual berries — and then there's the matter of little seeds floating around.
In her book 101 Sangrias and Pitcher Drinks, master mixologist Kim Hassarud has a lovely solution. Put berries and sugar syrup in a sauce pan, and cook until the berries are softened and lightening in color. You don't want that mush, but you want to have extracted liquid, flavored the sugar syrup and be ready to add dense color to your sangria.
The recipe below is one of several we'll try this summer. This recipe calls for ½ cup of berry flavored vodka. Lacking that today, I used peach flavored vodka and found the peach flavor definitely contributed to the overall the taste of the drink. Too much? Well, I'm going to get some berry vodka, too. Actually, in blogs to come, we'll discuss making your very own berry flavored liqueurs.
Wildberry Sangria
Yield: serves about 7
Ingredients:
¾ cup each of any three of the following berries: strawberries [hulled and sliced], blueberries, raspberries, blackberries or boysenberries ]total: 2 ¼ cups of berries]
¾ cup simple syrup
1 bottle of red wine
½ cup triple sec [or, better, use a higher quality orange liqueur like Mandarin Napoleon]
½ cup berry-flavored vodka
1 cup orange juice [fresh squeezed if you can]
Preparation:
In a saucepan, combine all of the berries with simple syrup over low heat. Stir constantly until the berries just being to soften and discolor. Set aside
Combine the remaining ingredients in a large ceramic or glass container. Add the berry mixture [berries and liquid], and stir well. Cover and refrigerate for at least 4 hours. Serve with ice. You may garnish either the pitcher or the individual glasses with berries. In fact, you can freeze berries and substitute those for ice cubes.
Source: 101 Sangrias and Pitcher Drinks by Kim Hassarud