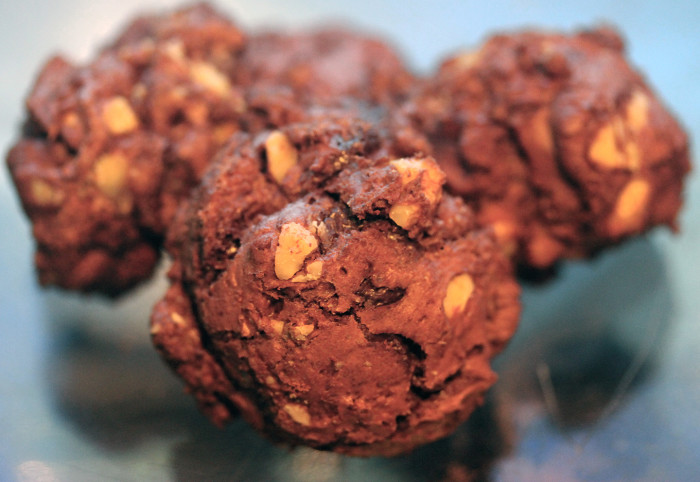 "Did you publish yet?" The publicist for Alice Medrich's Seriously Bitter Sweet just emailed me. Of course I published. I remember this beautiful cookie that tasted just impeccably perfect.
I searched my blog history. Gee, that's funny. Suzen and I made the cookie [okay, I watched and she made it because her trust level in me is a tad low. Again]. We loved the cookie and devoured them. I took great photos. I blogged it. I had to have blogged it.
And, it turns out I did not. It's not early onset. I know that. I remember that. Mostly.
It's not the drugs. We've been cutting back. But my caffeine intake is reduced. And, as you may have noticed, I'm trying to blog twice a day and I'm finding it just ever so slightly confusing. Two blogs a day often means you have twenty different things open on your desk and computer: Word files with recipes, Photoshop with photos, open books tagged with things made or to make or to somehow get Suzen to agree to make, books still stacked and waiting to be explored.
In summary, I'm confused. I'm very sorry. Particularly so because I really, really think these cookies are spectacular. Alice says that they are "ultra-chocolaty and richer than sin, slightly crunchy on the outside with a divinely soft center." If you put "sin" and "divinely" in the same sentence and label the recipe "decadence," you are either taking a great risk or have superb confidence.
This cookie is no-risk, complete satisfaction. By themselves, they are totally sumptuous. If you need a major jolt for the rest of day, one espresso and two of these will have you flying.
Alice has revised the recipe for this new book of hers, taking a very good recipe and elevating it to a definite "10." Made in bowl sitting on top of a skillet of boiling water, there's an old fashioned touch to making these. [Is that whisking some kind of penance?] But there is nothing old-fashioned about the rich sleekness of every sultry bite.
The proportions here, for cookie itself, are almost those of a classic brownie: little more egg, little less butter. The creativity here is the bushel of add ins: basically the dough serves to bind lots of nuts and chocolate chunks. The result is a complex, rewarding mouth feel.
Maybe, maybe just a little sinful, but what would life be with no decadence.
These cookies may be exceptional, but they also "typical" of the treats that await you in Seriously Bitter Sweet. Go, buy, bake.
Bittersweet Decadence Cookies
Yield: ~36 cookies [you'll need more!]
Ingredients:
¼ cup all-purpose flour
¼ teaspoon baking powder
1/8 teaspoon salt
8 ounces chocolate, coarsely chopped
2 tablespoon unsalted butter
2 large eggs
½ cup sugar
1 teaspoon pure vanilla extract
2 cups walnuts or pecans, broken or chopped into large pieces
6 ounces 54%-72% chocolate, chopped into chunks or store-bought chocolate chunks
Preparation:
Position the racks in the upper and lower thirds of the oven and preheat the oven to 350°F. Line two cookie sheets with parchment paper.
In a small bowl, mix the flour, baking powder, and salt together thoroughly; set aside.
Place the 8 ounces of chocolate the butter in a large stainless steel bowl in a wide skillet of barely simmering water and stir frequently just until melted and smooth. Removed the chocolate form the skillet and set it aside. Leave the heat on under the skillet.
In a large heatproof bowl, whisk the eggs, sugar and vanilla together thoroughly. Set the bowl in the skillet and stir until the mixture is lukewarm to the touch. Stir the egg mixture into the warm [not hot] chocolate. Stir in the flour mixture, then the nuts and the chocolate chunks.
Drop slightly rounded tablespoons of batter 1 1/2 inches apart onto the lined cookie sheets. Bake until the surface of the cookies looks dry and set but the center is still gooey, 12 to 14 minutes. Slide the cookies, still on the parchment, onto cookies racks, or set the pans on the racks. Let cool completely. Store in a tightly sealed container.
[Or, just eat them.]
Source: Seriously Bitter Sweet by Alice Medrich
Photo Information: Canon T2i, EFS 60 mm Macro Lens, F/2.8 for 1/30th second at ISO-3200