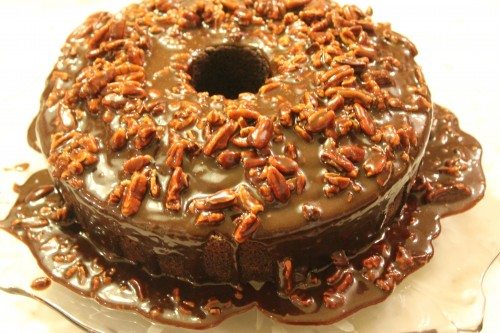 "What do you think?" I asked Suzen proudly. I hadn't seen a look like this on her face in over twenty years.
"No," she said quietly.
"But," I began, astounded.
"I mean no," her voice was forceful.
"No one has ever written a cookbook like this," I emphasized.
She paused. "No, no one has. For good reason. You need to think about this idea."
"Still," I rebutted. "It's a great idea, different I know, but the publishers will see the potential."
She came forward. No anger in her face. Her eyes opened wide. She put her lovely hands on my shoulders. "Brian, are you taking all your meds?"
So, let me try this idea out on you. I want to write a cookbook called Cooking Chemistry the Way it OUGHT to Be. It will have recipes for great foods that ought, and I repeat ought, to have certain characteristics. And they would, if just God had made chemistry work differently.
Like that cake up above. That rich gorgeous cake. That cake should have no calories. In my world it would. You see, it's a tube cake, so when it bakes all the calories go out the top hole. And then, to prevent the cake from reabsorbing any calories from the air, you put a THIN glaze around it. And because the glaze is thin, it can't have any calories. There you have it, a rich chocolate cake with no calories.
You know, now that I put this idea down on paper, I can see Suzen's point.
However, nothing, nothing can detract from this Mexican Chocolate Fudge Pecan Cake. Rebecca Rather is truly a Pastry Queen and her book The Pastry Queen is based on the delights from her Hill Country bakery west of Austin the Texas Hill Country. An incredibly well trained and experienced culinary expert, her foods draw crowds from the Fredericksburg, Texas sidewalks. It's a great food town, frosted with antique stores and offering Texas hospitality. Rebecca's shop is the must-stop location in town.
The cake smells good, looks better, and tastes the best. It's a delight by itself, with rich but not too rich chocolate flavor. The pecans, Texas pecans of course, are essential. But it would not be heresy to partner this cake with whipped cream, or vanilla ice cream, or coffee ice cream, or …
Mexican Chocolate Fudge Pecan Cake
Yield: serves 8
Ingredients:
For the cake:
I cup (2 sticks) unsalted butter i
½ cup unsweetened Dutch-process cocoa powder
¾ cup water
2 cups sugar
2 large eggs
1 cup buttermilk
2 tablespoons vanilla extract
2 cups all-purpose flour
1 teaspoon baking soda
1 ½ teaspoon ground cinnamon
¼ teaspoon salt
For the glaze:
1 cup pecans
½ cup (1 stick) unsalted butter
¼ cup whole milk
½ cup high-quality dark cocoa powder,
2 cups sifted powdered sugar (sifted then measured)
1 tablespoon vanilla extract
¼ teaspoon salt
Preparation:
Preheat the oven to 350°F. Grease a 9-inch tube pan or a 10 to 12-cup Bundt pan with butter, sprinkle lightly with flour and tap over the sink to remove any excess flour (or spray evenly with Baker's Joy spray). For cupcakes, line standard-size muffin pans with muffin wrappers or spray Texas-size (3 ½inches in diameter and 2 inches deep) muffin cups with Baker's Joy.
Melt the butter in a large saucepan over medium-low heat. Add the cocoa and whisk until smooth. Add the water and whisk until smooth. Be careful not to boil the mixture. Remove the saucepan from the heat. Add the sugar, eggs, buttermilk, and vanilla to the warm cocoa mixture all at once; whisk until smooth. Add the flour, baking soda, cinnamon, and salt all at once; whisk until the dry ingredients are completely incorporated. Don't worry if there are some small lumps. Pour the batter into the cake pan or, if using muffin pans, fill each cup two-thirds full.
Bake 40 to 45 minutes: until the cake is done and has pulled away slightly from the pan and feels firm to the touch. For cupcakes, check for doneness after 20 minutes.
Let the cake cool in the pan about 20 min. Cupcakes need only a total of 10 minutes cooling time.
While the cake is finishing cooling, make the glaze. Place the pecans on a baking sheet in a single layer. Roast them in the 350° oven for 7 to 9 minutes, until golden brown and aromatic.
Melt the butter over low heat in a medium saucepan. Add the milk, cocoa, and powdered sugar and whisk until glossy. Remove the saucepan from the heat and whisk in the vanilla and salt.
Loosen the cake with a knife or spatula and invert onto a serving plate. Spoon the glaze over the cooled cake, covering it thoroughly. Don't worry if some of the glaze pools inside and around the cake. For cupcakes, remove them from the pan, and peel off the paper liners. Invert each cupcake onto a small serving plate —this way they look like tiny cakes—and cover with glaze
Source: The Pastry Queen: Royally Good Recipes from the Texas Hill Country's Rather Sweet Bakery and Café by Rebecca Rather and Alison Oresman