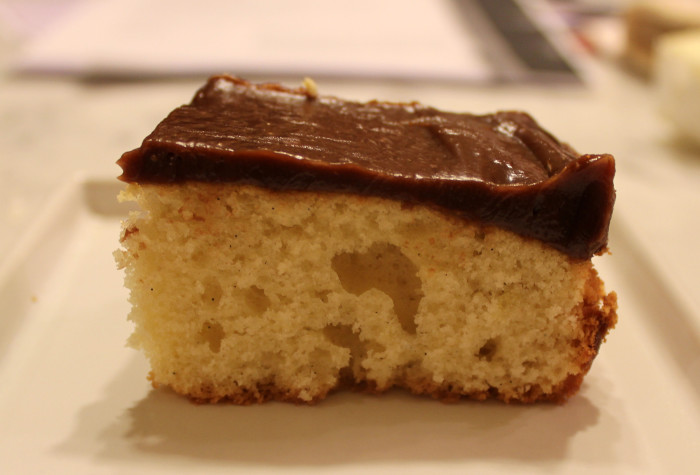 I know, Hanakah and Christmas and New Year's are past us. But, the holiday season now does not officially end until Super Sunday. So, you still have time for holiday baking. We should all thank the NFL.
And this extended holiday season truly is, for many of us, the peak baking season of the year — unless you count all those berry and apple pies during the summer and fall. Holiday cakes are a tradition in our house. And, you never know when a birthday may pop up and someone may deserve, if not need, an exceptional cake for their special day.
In Flavor Flours Alice Medrich takes us on a world tour of baking ideas based on the many options to our standard white flour. There are many dessert delights in the book, but Alice is very dedicated to completeness. What is cake without frosting? And what could be better than a milk chocolate frosting made with few ingredients but great care.
This frosting is delicious, in terms of flavor, and delectable, in terms of texture. This is not some light, fluffy topping. This is a dense serious frosting that evokes memories of fudge while offering softer milk chocolate flavors.
Easily made, this is the topping for any white, yellow or chocolate cake that is coming out of your oven. Any time of year.
---
Milk Chocolate Frosting

Yield: 1 quart

Ingredients:

1 cup heavy cream
17.5 ounces [500 grams] milk chocolate, coarsely chopped
½ pound [2 sticks] unsalted butter, softened.
Preparation:

Put the cream and chocolate in a medium stainless steel bowl. Bring an inch of water to a simmer in a wide skillet. Turn off the heat and set the bowl of chocolate in the water. Let it rest for 15 minutes, gently shaking the bowl several times to submerge the chocolate in the cream.
When the chocolate is melted, start whisking at one edge and continue whisking until all of the chocolate is incorporated and the mixture is smooth. Add the butter in chunks and whisk once or twice to break them up; let the mixture test for 5 minutes to finish melting the butter before whisking it smooth. Set aside to cool and thicken. Leftovers keep, covered, in the refrigerator for up to 5 days.
---
Source: Flour Flavors by Alice Medrich [Artisan, 2014]

Photo Information: Canon T2i, EFS 60mm Macro Lens, F/3.5 for1/30th second at ISO‑320