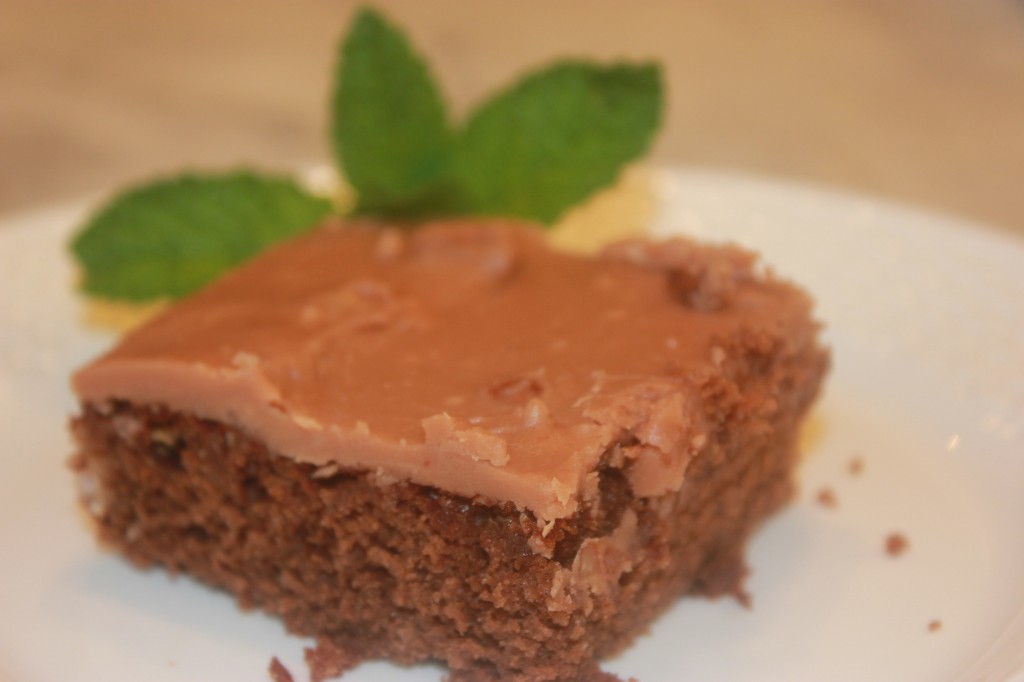 I've been blogging recently about chocolate cake, simple one layer sheet cakes. My wife Suzen and her cousin Karen recently sat me down.
"You are wasting your time," Karen said. "Zel's is the best." Zel was Karen's mother and the "family cook." With five daughters, Zel really did not have an option. She cooked for her growing tribe in the 50's, 60's and 70's. She was busy and she was on a budget.
Zel was famous for her Hershey's Chocolate Cake, made with that ubiquitous syrup that normally goes on ice cream. It makes, I admit, a very, very good chocolate cake. There are many versions of this recipe but Zel's is different in significant ways and those ways yield a great cake. Her recipe calls for butter, not vegetable oil, and 4 eggs instead of 2. The result is rich cake, dense, but not "thick." That flavor tone that Hershey's Syrup is famous for is muted here. It's a chocolate cake, but you don't know that the key chocolate flavor comes from a can.
Zel served her cake with a dusting of powdered sugar. I made a simple chocolate frosting. Frosting, glaze, or sugar, anything will do. And, of course, a scoop of vanilla ice cream would be in order.
This recipe is so old that it calls for a "heaping" cup of flour, which will affect how much batter you have and how long the cake will take to bake. Zel's heaping cup must have been very big because she says to bake for a full hour. We made the cake with 1 cup of flour, and found the cake to be done at 40 minutes. I suggest you set your timer for 40 minutes and check with toothpicks until the cake is fully done.
Here is Zel's recipe for you to enjoy. It's a tradition in Suzen's family and can be one for you too.
Hershey's Chocolate Cake
Yield: one 8" X 13" sheet cake
Ingredients:
One stick of butter, at room temperature
1 cup of sugar
4 eggs at room temperature
1 can Hershey's Syrup at room temperature
1 heaping cup flour
1 teaspoon baking powder
1 teaspoon vanilla
Preparation:
Preheat the oven to 350°F.
Butter and flour an 8" X 13" cake pan. You may have one that is 9" wide or 12" long. That's fine to use, but it will affect the baking time.
In a mixer, cream the butter until smooth. Then gradually add the sugar, taking at least 3 minutes, and continue the creaming process.
Add the four eggs, one at a time to the creamed butter-sugar mixture. Make sure each egg is thoroughly incorporated before adding the next one. Patience is key here.
Add the whole can of Hershey's Syrup, mixing it in thoroughly.
Add the flour and baking powder, mixing just until combined. Finally, add the vanilla.
Pour the batter into the prepared pan and bake for 1 hour [checking for doneness after 40 minutes].
Let cool and serve with the topping of your choice.
Source: Zelda Mines