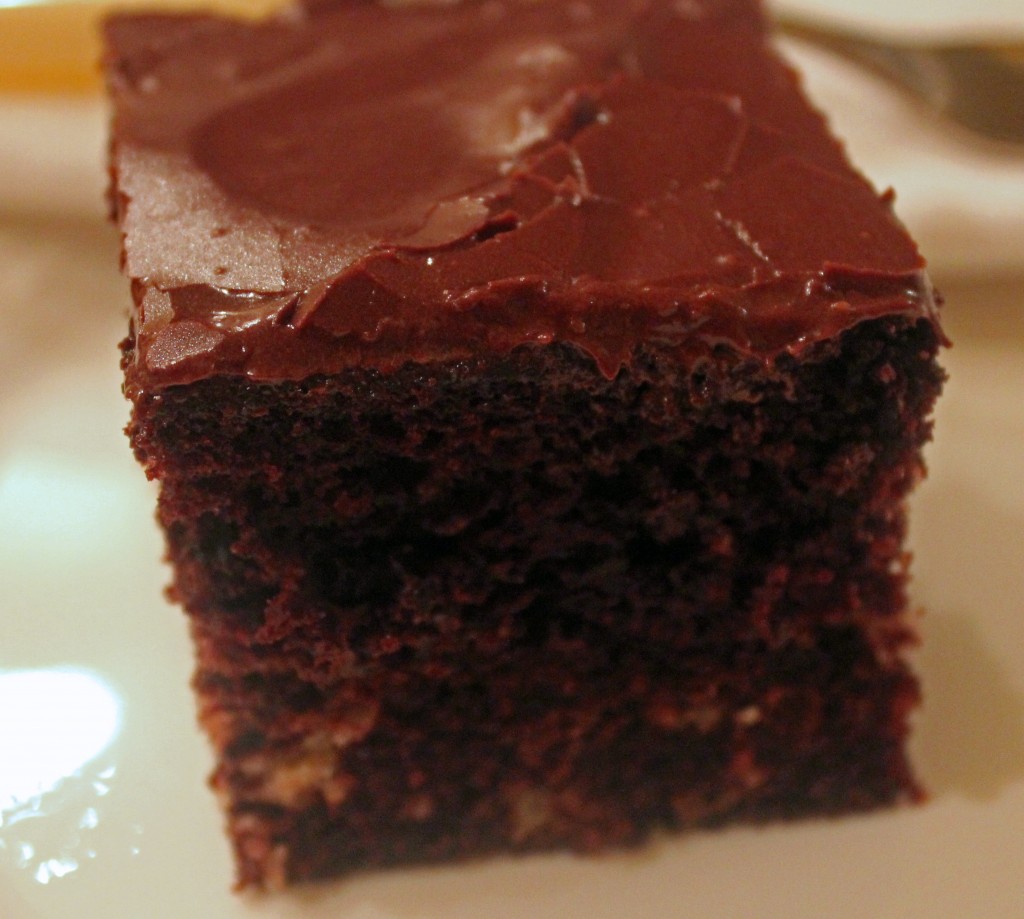 Todays' cocoa, and today's buttermilk, have some different chemical properties than they did 60 years ago. Old fashioned cocoa could then give a cake a lovely "reddish" color — a color I believe that resembles the "red velvet" color so popular today.
This is a very good cake, that classic rich combination of cocoa and buttermilk. There are many variations around today, with shifts in ingredients such as adding touches of vanilla or even cinnamon. But here you have the original ancestor, and it's a noble one.
Truthfully, the original recipe called for ⅔ cup of margarine and I've changed that to butter. And I've suggested creaming the butter first, on its own, before very gradually adding the sugar. That's a lesson I've learned from Carole Walter, a friend and deeply respected author.
The cake can be knocked off in a few minutes. The Fudge Frosting [from the previous post here] is equally simple. The mathematics is direct: simple + simple = wonderful.
If you are having a party this holiday weekend, this is a classic dessert that will please everyone with a chocolate addiction. [For those poor folks who are not into chocolate, I'll have dessert solution over the next two days!]
Seattle Oxblood Cake
Yield: one 9" X 13" sheet cake
Ingredients:
⅔ cup butter
2 cups sugar
2 large eggs
2 ½ cups all-purpose flour
1 cup buttermilk
¾ cup cocoa
2 teaspoons baking soda
1 teaspoon salt
¾ cup hot water
Fudge Icing [see the prior post on this blog]
Preparation:
Preheat the oven to 350 degrees. Grease a 13 x 9 x2" -inch pan.
Ii a large bowl using an electric mixer, cream the butter until fluffy. Slowly add the sugar over a two minute period, scraping the bowl frequently. Your goal is to have a mixture with no graininess. Beat in the eggs one at a time, beating well after each addition. The addition of the first egg may be necessary to get that "smooth" batter with no grainy texture.
Add the flour and buttermilk alternately. In a small bowl, combine the cocoa powder, baking soda, salt, and hot water. Fold this cocoa mixture into the butter-sugar-egg batter and stir just until smooth. Pour the batter into the prepared pan and bake for about 1 hour, until springy and a wooden pick or skewer inserted in the center comes out clean.
Cool completely in the pan on a wire rack,
Frost with fudge icing and serve in squares.
Source: The Great American Cookbook by Clementine Paddleford