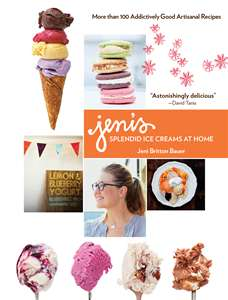 There are certain days that haunt us all for the rest of our lives. A tragedy, a death, a monumental world event. You remember where you where, what you thought, how others around you reacted.
I always remember the morning after I proposed to Suzen. Not the night I proposed, which was a romantic dinner. No, the morning after. I slept in, woke up, and found she was not in our bed. I went downstairs. I heard her in the kitchen.
Chaos. There was a garbage bag open on the floor. The refrigerator door was open, and Suzen was reaching in and removing items.
"Now that we are getting married," she began, and then she tossed away all my heavy cream and most of the butter. "You're going to clean up your act."
A quarter century has past. No, she did not win. Neither did I. We compromised. We eat well, but try to find flavor in healthy ways.
For example, perfect ice cream with no eggs. No eggs? No custard? How can it be? Great ice cream means rich. Well, this recipe is not poor. There is still plenty of heavy cream and milk, but it is egg free. And it's wonderful to taste. Oh, did I mention the corn flavor?
Yes, this is Sweet Corn Ice Cream, from the exciting new book Jeni's Splendid Ice Creams at Home. I've already posted her Beet and Mascarpone Ice Cream. This corn ice cream is equally different and delicious. There is a subtle corn flavor, one that is light and sweet thanks to the market stand corn we used.
We did a taste test of this ice cream on several colleagues — without telling them the actual flavor. The loved the ice cream at first bite, but they had querulous faces as they searched for what to call it. Corn was not on the tip of their tongues.
Jeni's recipes are real contributions to the dessert world. New flavors that you will chuckle about at first, then savor when you taste. And new techniques: using a cornstarch slurry and a cream cheese component to obtain a smooth custard-like texture.
Over this book, the only disputes Suzen and I have are about which recipe to try next. I am all for the Salty Caramel but she's ready to do the Sweet Potato Ice Cream with Torched Marshmallows. I guess I will compromise. I love her. I love marshmallows. Don't ask me to choose.
[Jeni suggests that you make this ice cream by layering in a Black Raspberry Sauce when you scoop the ice cream out of your maker for final freezing. We did not do that, curious to test the pure corn flavor. We did make the sauce [blogging it tomorrow!], but served it on the side.]
Sweet Corn Ice Cream
Yield: 1 quart
Ingredients:
1 ear sweet corn, husked [Note: you want it sweet and fresh!]
2 cups whole milk
4 teaspoons corn starch
1 ½ ounces [3 tablespoons] cream cheese, softened
¼ teaspoon fine sea salt
1 ¼ cups heavy cream
⅔ cup sugar
2 tablespoons light corn syrup
Preparation:
You will need four metal bowls: one large one for the corn, a small one for cornstarch slurry, a medium sized one for the cream cheese, and a very large one for the ice bath.
For the corn, slice the kernels from corn cob, then "milk" the cob scraping it with back of your knife to extract the liquid. Reserve the kernels and liquid. [Note: you may want to do this step all in one large bowl, with enough room so you don't hit the side of the bowl and cut yourself. Those were my instructions from my loving wife.]
For the ice cream, make the slurry in a small bowl. Mix about 2 tablespoons of the milk with the cornstarch and stir with a spoon or small whisk to make a smooth slurry.
In a medium bowl, whisk the cream cheese and salt until smooth.
Fill the largest bowl with a mix of ice and water to form an ice bath. [Note: if there are two of you doing this, one person can cook the ice cream while the other makes this ice bath just before use to preserve the ice on a hot summer day.]
To form the ice cream base, combine the remaining milk, the cream, sugar, reserved corn kernels and corn milk, and corn syrup in a 4-quart saucepan. Bring to a rolling boil over medium-high heat, and boil for 4 minutes. Removed from the heat and force the mixture through a sieve into the bowl you used to reserve the corn kernels. When you force the mixture, you will leave behind the corn cases and possibly some kernels that have not opened. [Note: what does not go through the sieve should go into a small bowl. Add salt and pepper and snack away. When was the last time you had corn cooked in milk and heavy cream? Suzen is not aware I did this behind her back.]
Return the mixture that has passed through the sieve to the saucepan over medium-high heat. Gradually whisk in the cornstarch slurry. Bring back to a boil over medium-high heat and cook, stirring with a heatproof spatula, until slightly thickened, about 1 minute. Remove from the heat. [Another note: we've used this technique twice and found takes us about 2 minutes to see real thickening.]
You are about to mix that hot liquid with the cream cheese. Ideally, this is a two person job. Gradually whisk the hot milk mixture into the cream cheese until smooth. Pour the mixture into a 1-gallon Ziploc freezer bag and submerge the sealed bag in the ice bath. Let stand, adding more ice as necessary until cold, about 30 minutes.
Big note: Suzen and I were a bit concerned about putting that hot liquid immediately  into a plastic bag. So we floated the metal bowl we used for the cream cheese in the larger ice bath bowl. After 10 minutes, the mixture had seriously cooled. Then we poured the liquid into the plastic bag, added ice to the ice bath, and submerged the carefully sealed plastic bag.
Finally, freeze the mixture using your ice cream mixer. Let the mixture churn until thick and creamy. Pack the ice cream into a container, press a sheet of parchment paper directly over the top surface to prevent freezer burn, and seal with an airtight lid. Freeze in the coldest part of your freezer, usually the back wall, until firm, at least 4 hours.
Source: Jeni's Splendid Ice Creams at Home.