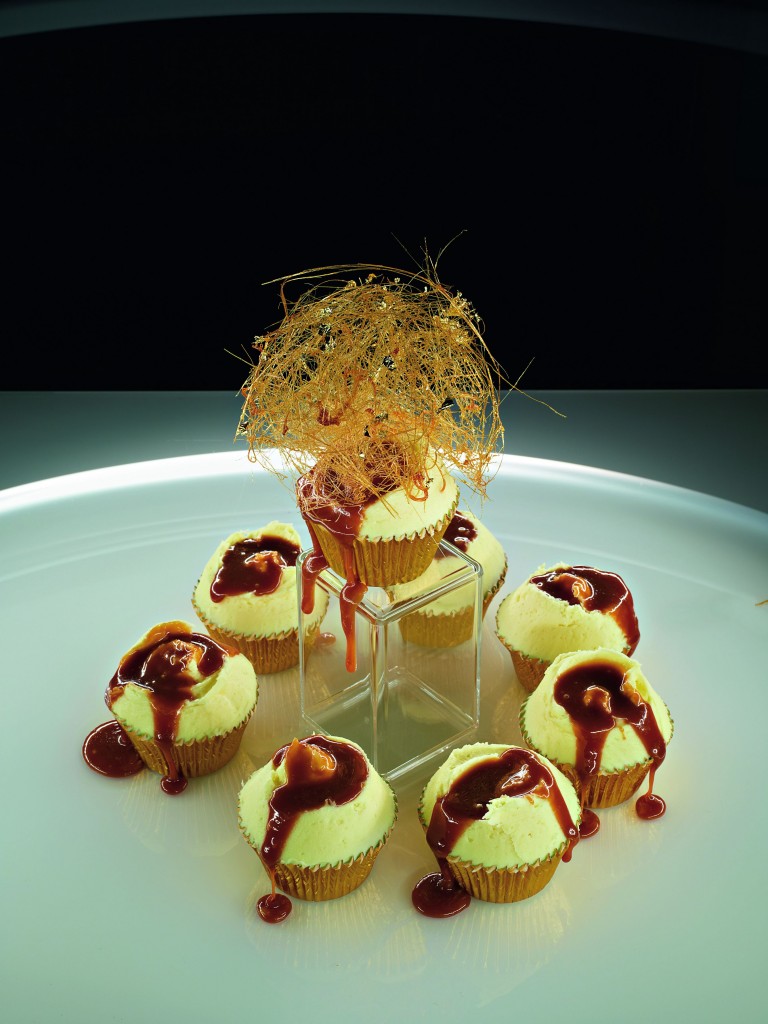 Who says that cupcakes cannot be dessert? That you have to have a full cake? From 2012, here's a post that shows cupcakes can be quite meaningful. And take a bit of work, too!
---
Did I actually make those gorgeous cupcakes above? And the decorations? Well, of course, I did. In fact, …
No. I didn't. Not a chance. That's a picture from the publisher, very representative of the delightful photos in Cox Cookies and Cakes. I wish I could make these cupcakes. I will attempt it. But frankly, I am not Eric Lanlard. Along with co-author Partick Cox, Eric has produced another brilliant book. His cake and tart books [Cake Boy and Tart It Up] have been featured on this blog. Those books are filled with marvelous recipes that you can try and pretty easily do at home.
This book, Cox Cookies and Cakes, is a different beast. Oh, you are free to tackle any of the 75+ recipes here for cupcakes and cookies and bars and other wonders. Bake away. But each of these recipes comes with a picture that is going to make you say to yourself: I am not Michelangelo.
This is a cookbook but it's also a coffee table book. Something to just sit and wonder at. Eric and Patrick are artists and this remarkable book proves that.
You know, on second thought, I bet I can make, or at least try anything in this book. It's just that my first step will be to open a very cold bottle of champagne as I start. I'll need to chill, relax, and see if I can just remotely come close. Patience is the pathway to perfection.
Just a note, Eric explains that he grew up in Brittany, famed for its dairy farms. He grew up on caramel, salted butter caramel. So, he kinda had a head start here. I'm not calling him a cheater or anything, but he's way ahead of most of us. Thankfully for us, he's a great baker, writer, and teacher.
---
Salted Butter Caramel Cupcakes
Yield: 12 cupcakes
Ingredients:
For the cupcakes:
1 ⅓ cups self-rising flour
1 teaspoon baking soda
5 tablespoon unsalted butter, softened
½ heaped cup Barbados sugar
2 eggs, lightly beaten
1 teaspoon vanilla extract
2 tablespoon milk
2oz toffee or pieces of fudge, cut into small dice
For the caramel sauce:
⅔ cup superfine sugar
5 tablespoon salted butter
¼ cup + 1 tablespoon heavy cream
1 teaspoon vanilla extract
For the buttercream frosting:
1 ⅜ sticks unsalted butter, softened
1¼ cups confectioner's sugar
1 teaspoon vanilla extract
1 teaspoon caramel extract (optional)
few flakes of sea salt, to decorate
Preparation:
Preheat the oven to 400°F, and line a cupcake pan with paper baking cups.
Sift the flour and baking soda together into a bowl and set aside. Using a stand mixer or an electric hand mixer, cream the butter and sugar together for a good 5 minutes until very light and fluffy. Add the beaten eggs gradually, beating between each addition and adding 1 tablespoon of flour about halfway through to stop the mixture from curdling. Beat in the vanilla extract then fold in the remaining flour, the milk, and the toffee or fudge.
Divide the batter between the paper baking cups and bake for 15–20 minutes, or until the tops spring back when pressed with a finger. Leave to cool in the pan for 5 minutes, then transfer to a wire rack and allow to
cool completely.
To make the Caramel Sauce; dissolve the sugar in ¼ cup water in a small heavy saucepan over very low heat. Increase the heat and simmer. As soon as you have a nice blond-colored caramel remove the pan from the heat. Add the butter—be careful because it may splutter. Continue stirring as you add the cream and vanilla extract. Stir until smooth then leave to cool.
To make the Buttercream Frosting; cream the butter and confectioner's sugar together for at least 5 minutes then beat in the vanilla and caramel extracts.
Use a small metal spatula to spread Buttercream Frosting onto the cupcakes. Pour a little Caramel Sauce over the top, and scatter each cupcake with a few sea salt flakes to finish.
---
Source: Cox Cookies and Cakes by Eric Lanlard and Patrick Cox