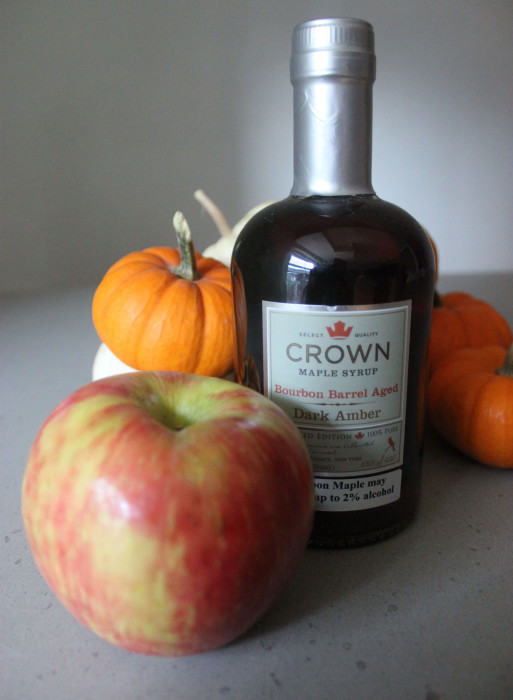 What? You don't like pumpkin pie? Golly, what happened to you?
I can't imagine a Thanksgiving without that iconic pie. But, but, I can understand. You may not be a pumpkin pie fan — I will be blogging some recipes soon to change your mind. Or, or, for your third helping of dessert on Thanksgiving night, you want a different dessert.
Yes, Thanksgiving is a long night and some people will by 2AM be on their third dessert. It's just one night a year, for Pete's sake.
Here's a dessert idea I found that is very American, with its maple syrup, and very fall with its apple component. Easily made, this chilled mouse can provide a temperature as well as flavor contrast for pies hot out of the oven.
The Apple & Pecan Crunch topping is not baked so this dessert really can be made in just a few minutes. Your biggest issue? Waiting an hour for this mousse to fully chill. Have patience. Wait. Have another piece of pie first.
We have visited Madava Farms in the Hudson Valley where they produce a range of maple products you have to experience to believe. If you can, the Crown Maple Bourbon Barrel Aged will give you a mousse creating tears of tasting joy.
---
Toad Hill Maple Mousse with Apple & Pecan Crunch

Yield: serves 4-6

Ingredients:

6 tablespoons Grade A maple syrup
3 egg yolks
Pinch salt
1 ½ teaspoons orange zest
1 cup heavy cream
1 large Red Delicious apple, peeled, cored, and diced into ¼ inch pieces
1 ½ cups coarsely chopped toasted pecans
1 tablespoon light brown sugar
1 teaspoon fresh lemon juice
Preparation:

In a medium aluminum bowl, combine the syrup, egg yolks, and salt. Place the bowl over a pot of simmering water and whisk the mixture for 6 minutes, or until it has thickened and the color has changed from dark to light. Make sure that the mixture does not curdle due to overheating. Once thickened, remove the bowl from the heat and place on a bed of ice to cool.
Carefully add the orange zest, stirring frequently, while the custard mixture is cooling over the ice.
In a separate bowl, whip the cream with an electric mixer until thick and heavy and can hold its shape. Carefully fold the cream into the cooled custard mixture. Divide the mousse into 4-6 dessert glasses and refrigerate for 1 hour.
In a medium bowl, combine the apple, pecans, brown sugar, and lemon juice and fold together until the sugar has been absorbed into the apple. Divide the mixture on top of the chilled mousse-filled dessert glasses. Serve immediately.
---
Source: Adirondack Cuisine by Armand c. Vanderstigchel and Robert E. Birkel [Countryman Press, 2002]