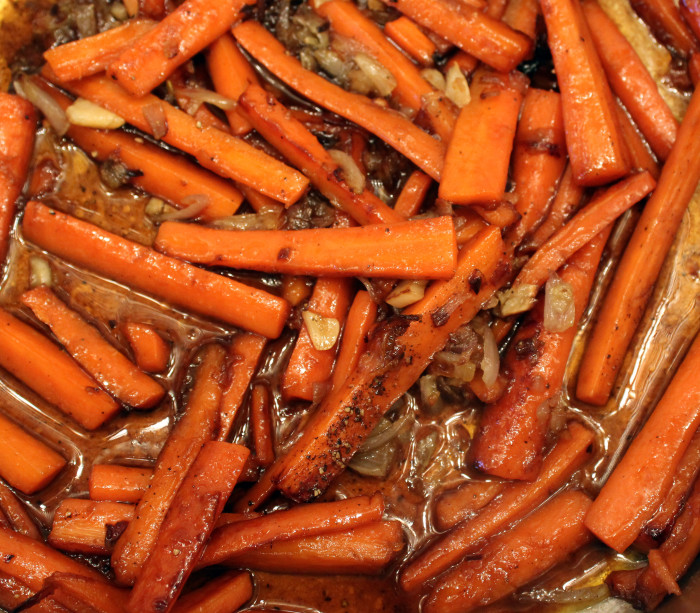 I posted this four years ago. And ever since, we make these for Easter. If you are searching for something to put on your holiday table, this will work just perfectly.
It is Easter Sunday, a day devoted to the colors yellow and purple and orange. Oh, those are just the colors of heirloom carrots! If you are still hunting for an excellent side dish for your holiday meal, then this dish is just what you need. We made this for my birthday and we made a terrible mistake: we did not make enough. There were 6 of us and we each had a portion, but there was nothing left for seconds. Make lots.
The flavor is sweet with the punch of ginger and the overtones from bourbon and orange juice. It's a very complex set of flavors, earthiness at its very best. Happily, you can make this dish is just a few minutes. It's the perfect, last-minute addition to any table, any time.
Yes, you can add some slices of garlic or shallots here to intensify and diversify the flavor. We did and loved the extended flavor.
---
Bourbon-Ginger Glazed Carrots
Yield: serves 4 to 6 [barely!]
Ingredients:
4 tablespoons unsalted butter
1 pound baby carrots, sliced lengthwise in half, or large carrots (about 5) sliced into ¼-inch-thick rounds
¼ cup packed brown sugar
3 tablespoons peeled, minced fresh ginger
3 tablespoons bourbon
Juice of 1 orange
2 teaspoons salt
Freshly ground black pepper
Preparation:
Heat the butter in a large skillet over high heat. Add the carrots and sauté for about 6 minutes, until slightly softened. Add the brown sugar and ginger and cook, stirring, until the brown sugar dissolves, about 2 minutes.
Deglaze the pan by stirring in the bourbon and orange juice. Cook until the carrots are fork-tender and the liquid is reduced and syrupy, 6 to 8 minutes.
Season with the salt and pepper to taste and serve.
Source: Smoke & Pickles by Edward Lee [Artisan, 2013]
Photo Information: Canon T2i, EFS 60 mm Macro Lens, F/4 for 1/40th second at ISO‑1600