"Some of the siding is loose. Can you nail it down?" It was last Monday. I was talking to Ted Byron, whose Active Maintenance Company takes care of our upstate house. We were having the house stained after several years. There happened to be a storm on the way.
Ted did his typical great job. When Irene hit, we lost not a shingle, not a board. The house was watertight.
Ted's home, the home he was raised in, sits high above the bank of the Esopus Creek, affording him a lifetime of views. On Sunday, the creek swept over that home, over it, and the home is gone.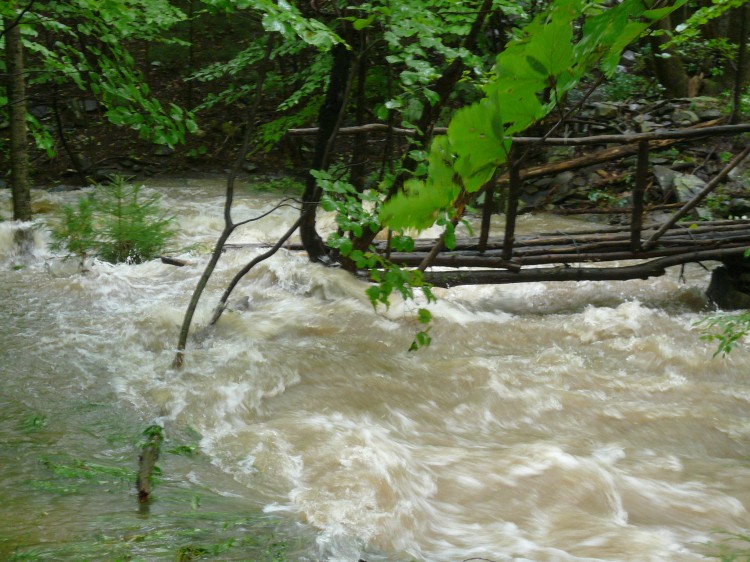 I haven't blogged because Suzen and I were literally stranded. The roads were blocked by water or trees or dropped power lines. When we left yesterday morning, we'd had no power for three days. We just sat out the storm with candles and books. Our gas stove worked so we had hot chili and warm sodas.
Yet, we were so lucky. We live halfway down a mountainside. You don't want to be at the top of the mountain: wind. Or at the bottom: water.
We do have a stream, normally small, and I'd built a small bridge over it. A bit of a folly, but also an escape hatch in case the big bridge we drive over ever failed. Down the hill, we have neighbors whose bridges are gone.
Our bridges did not wash out. My little folly is still there. But the picture above shows the water on Sunday. Normally I'd just step on the logs and cross over the water. As you can see, reaching the bridge would have been a bit of a problem. The usual trickling sound of the stream, a natural mantra, was replaced by a jet engine roar. Rushing water, white and chaotic, is mesmerizing and frightening.
We'll be back upstate this weekend. We'll work with friends to clean things up. And we'll all join to help Ted and the others who were faced Irene and lost.