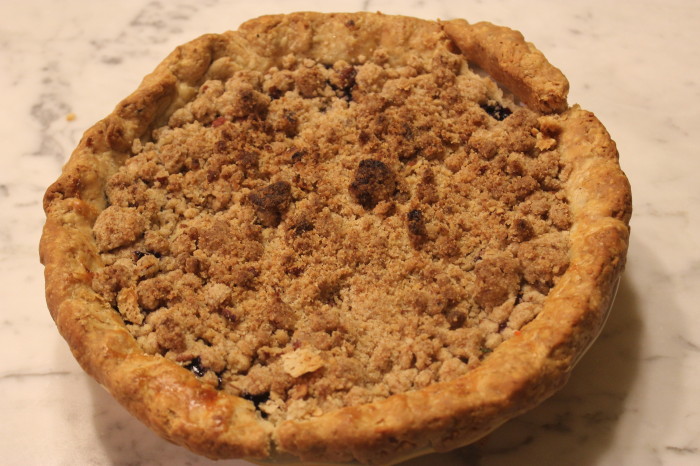 The 4th of July approaches. Dessert is needed. There is nothing more American than blueberry pie on the 4th of July. For this treat, which we tested last weekend, Suzen turned to Great Pies and Tarts by Carole Walter. Carole is a friend, a wonderful author, and truly an American treasure. If you have not encountered one of her recipes before, then here is the place to start.
Now, about Carole. She is charming and lovely. And detailed. And very detailed. Don't let this recipe frighten you. There are a lot of steps and your hand is being held every micro-step along the way. That's Carole being a perfectionist. What's going to happen when you follow these instructions? You'll have the best fruit pie of your life.
This recipe calls for 6-7 cups of blueberries. Suzi actually made an 80-20 mixture of blueberries and perfectly ripe plums. Suzen beamed at the results, which she pronounced to be "pie perfect."
Carole would be proud.
Oh, several of the steps here call for using aluminum foil. In fact, this recipe has more aluminum in it than any I have ever seen. Don't worry. You're not eating the foil and it can be recycled. It's very necessary and very important to use the foil as directed to protect the pie and your oven.

Blueberry Crumb Pie with Warm Blueberry Sauce
Yield: serves 6 to 8
Ingredients:
Crust:
Your favorite Flaky Pie Pastry [Carol has two on pages 98 and 100 of Great Pies and Tarts, which is another good reason to buy her book!]
1 large egg white
1 teaspoon water
Filling:
¾ cup granulated sugar
2 tablespoons cornstarch
½ teaspoon ground cinnamon
¼ cup water
6-7 cups blueberries, washed and dried
1 tablespoon instant tapioca
1 tablespoon unsalted butter
1 ½ to 2 teaspoons fresh lemon juice
6 limes
Streusel Crumb Topping:
1 cup unsifted all-purpose flour
¼ cup finely chopped walnuts
¼ cup granulated sugar
¼ cup lightly packed light brown sugar
½ teaspoon ground cinnamon
¼ teaspoon baking powder
⅛ teaspoon salt
⅓ cup unsalted butter, melted and cooled to tepid
Warm Blueberry Sauce:
Reserved syrup from filling
½ cup water
1 to 2 tablespoons crème de cassis or Kirschwater
1 teaspoon fresh lemon juice
Preparation:
The Crust:
Preheat the oven to 400⁰ F. Position the oven rack in the lower third of the oven. Butter a 9-inch ovenproof glass pie plate.
On a floured pastry cloth, roll the pastry into a circle measuring approximately 13 inches in diameter. Fit loosely into the pie plate. Trip the edge with scissors, leaving 1-inch overhand. Fold over and flute or crimp the edge. In a small bowl, lightly beat the egg white and water. Brush the dough with a thin layer of egg white to seal the surface.
The Filling:
Whisk together the sugar, cornstarch, and cinnamon in a large skillet. Stir in the water. Add the blueberries and stir gently. Bring to a slow boil, then cook over low heat, stirring occasionally with a rubber spatula, for about 5 minutes, or just until the mixture thickens. Avoid mashing the blueberries. Be careful not to overcook them.
Using a slotted spoon, empty the blueberries into a large shallow container about 1/3 at a time, sprinkling each layer with tapioca. Let stand for 15 minutes to soften the tapioca. Reserve the syrup for the blueberry sauce. Empty the filling into the pie plate. Dot with lemon and sprinkling with lemon juice.
The Streusel Crumb Topping:
Combine the flour, walnuts, sugars, cinnamon, baking powder, and salt in a medium bowl. Add to the cooled melted butter and toss with a fork to make crumbs. Take a clump of the crumb mixture in your hand and squeeze gently to form a larger clump. Then break the large clump apart over the blueberry filling. Repeat using all of the crumbs. Do not press the crumbs into the filling.
To prevent the edges from burning, make aluminum foil bands. Cut two 3-inch-wide strips of 18-inch heavy-duty aluminum foil. Fold 1 inch of each strip to the center, making a double thickness of foil. Mold the foil around edge of the pie, keeping the double fold on top of the dough. Be careful not to crush the edge of pasty. Secure the bands with tape.
Make an aluminum foil drop pan to place on the rack below the pie halfway through the baking. Cut an 18-inch square of heavy-duty aluminum foil. Fold each edge twice [about 1 inch per fold] standing the folding edge upright to form a 4-sided pan.
To prevent the crumbs from overbrowning, cove the pie loosely with a sheet of aluminum foil.
Bake for 40 minutes. Remove the foil bands the foil form the top and continue baking for 10 to 15 minutes, or until the bottom crust and crumbs are golden brown. Cool on a rack for 4 hours before cutting. Serve with vanilla ice cream or frozen yogurt and Warm Blueberry Sauce
Warm Blueberry Sauce:
Place the reserved blueberry syrup and water in a medium, heavy saucepan. Bring to a slow boil, stirring constantly. Off the heat, stir in the cassis, then return to the boil, and cook for 30 seconds longer. If the sauce is too thick, add a little more water. Stir in the lemon juice and empty into a container. This sauce can be made ahead and reheated as needed.
Source: Great Pies and Tarts by Carole Walter
Photo Credits: Canon T2i, 18-55mm lens at F/5.0, 1/60th and 1/60th and 1/80th seconds at ISO 1250, 3200, and 2000 respectively [no flash]