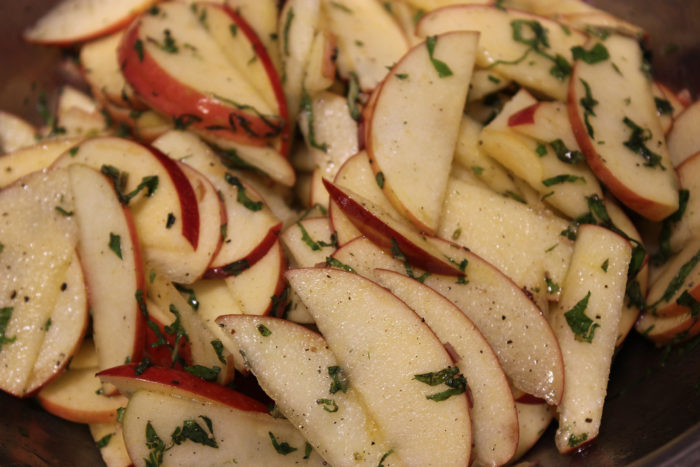 When Suzen has classes at Cooking by the Book, everybody gets to work in the kitchen. The whole team coming to us is divided up into smaller groups, each group prepares one dish of the meal, they cook for about an hour, and then go eat their creations.
It's all "so" simple.
Except when it is not. You want a full meal, say three dishes plus dessert. But what if you only have 10 people? It's not enough to divide four ways. So, one of the groups is going to do double duty. They'll prepare one dish, say a main course of Parmesan Crusted Chicken, but also a side dish.
Now, given the time constraints of an hour in the kitchen, that second dish has to be quick. But wonderful.
Here's an easy solution. The dressing here was inspired by MyRecipes.com but I've added more citrus wonder to it.
---
Fast Apple and Mint Side Dish
Serves: 4-6
Ingredients:
3 apples
Handful of mint
6 tablespoons lemon juice
6 tablespoons orange juice
3 tablespoons lime juice
3 tablespoons salad oil
2 tablespoons sugar
Preparation:
Don't bother peeling the apples. Just finely slice them and add them to a bowl. Dice the mind finely and add it to the bowl — you can add some of the mint at first and wait to taste test at the end.
Mix the lemon, orange and lime juices. Add the salad oil. Cover the apples and toss with your hands. Add the sugar and combine again. Adjust seasonings as you desire. You can even go down the route of a touch of apple vinegar.