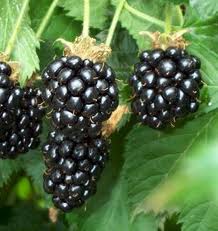 In yesterday's blog for corn ice cream, I mentioned that its creator, Jeni Bauer, suggested freezing the ice cream in alternating layers: ice cream and blackberry sauce. Instead, we made the sauce on the side and served it on top of the ice cream. Either way, you will consume it all.
This is about as simple a recipe as you can have: berries and sugar. The trick here is to cook it to the required temperature of 220°F. After about 216°, the temperature rise on medium-high heat is slow. Have patience.
When cooled, this sauce will literally bind up. It does not flow, and if you use it as we did, you'll need to warm it up. Cooking to this temperature with large blackberries releases an enormous amount of pectin. This "sauce" is really a jam. So, if you don't have ice cream for breakfast, you can have toast with "Blackberry Sauce."
Jeni suggests this technique for raspberries or black raspberries, too. We'll be trying that out as the summer goes.
Blackberry Sauce
Yield: 1 ¼ cups
Ingredients:
2 cups berries
1 cup sugar
Preparation:
Combine the berries and sugar in a small saucepan and bring to a boil over medium-high heat.
Continue boiling, stirring occasionally, until it reaches 220°F [about 5 to 8 minutes]. Let cool slightly, the force through a sieve to remove the seeds. Or leave a few seeds in there just to prove you made it.
Refrigerate until cold before using.
Notes: when boiling, we used a spoon to mash the berries and make sure they gave up all of their liquid. Large blackberries are strong and will not break down in boiling liquid unless you render assistance.
Source: Jeni's Splendid Ice Creams at Home.