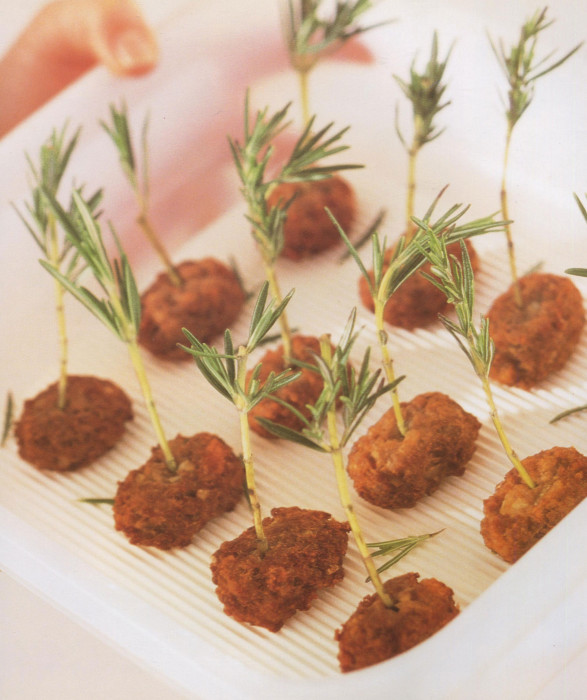 Here is another Super Bowl recipe from Fingerfood by Elsa Petersen-Schepelern. These are meatballs from Northern Europe, enjoyed in Scandinavia, Holland and Germany. Three different meats are here, result in a rich, satisfying dish with no one dominant flavor. You may, though, notice the hints of anchovy, used here as a seasoning and not a full-fledged flavoring.
Oh, there is mashed potato, too. Lots of ingredients to give you a different meatball experience. This is not Italy.
---
Frikadelle or Meatballs from Northern Europe
Yield: about 30
Ingredients:
Freshly cracked black pepper
⅓ cup mashed potato
1 cup, firmly packed, ground beef
½ cup ground veal
½ cup ground lamb
½ cup dried breadcrumbs
6 tablespoons light cream
1 egg, beaten
Pinch of freshly grated nutmeg
1 canned anchovy fillet, mashed
Pinch of ground allspice
Salt and freshly ground black pepper
3 tablespoons butter
1 small onion, finely chopped
2 tablespoons vegetable oil rosemary sprigs, for serving
Preparation:
Put the potato in a bowl with the meat, breadcrumbs, cream, egg, nutmeg, anchovy, allspice, a large pinch of salt, and a good grinding of black pepper. Mix well.
Heat 1 tablespoon of the butter in a skillet, add the onion and sauté until softened and translucent. Stir into the meat mixture.
Wet your hands, take 1 tablespoon of the mixture, roll it between your palms to form a ball, then flatten it slightly. Repeat until all the mixture has been used. Arrange the balls apart on a tray, cover with plastic wrap and chill for about 1 hour.
Heat the remaining butter and the oil in a heavy-bottom skillet, then sauté the meatballs, spaced apart, in batches, until browned on both sides. Shake them from time to time. Remove and drain on crumpled paper towels.
Serve with toothpicks or rosemary sprigs—the rosemary gives wonderful fragrance to the frikadelle.
Alternatively, you can serve with a chili dipping sauce, in hamburger buns or pita, or in wraps with the additional accompaniments of your choice.
---
Source: Fingerfood by Elsa Petersen-Schepelern [Ryland Peters & Small, 1999]