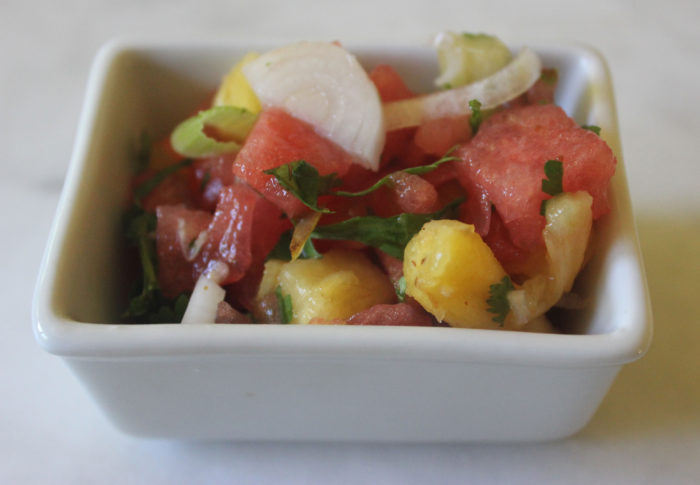 I did a TBT cookbook review of Nueva Salsa, a little book of perfected salsa recipes.. One recipe, for Watermelon Tequila and Pineapple Salsa, certainly caught my eye. I was reading it in February, not the time to consider watermelon.
Now it is late July and the summer heat has watermelons large, ripe and sweet. I've modified the recipe to the ingredients and proportions shown below. Why? I was light on pineapple and some other ingredients. Salsas are infinitely variable and Suzi and I were delighted to serve this at a dinner party. On chips? No, as a true side dish beside a lovely Orange Baked Chicken. You'll see that recipe soon, because the paring was ideal.
Anytime you are in a salsa mood, don't feel captive to that recipe before you. You can always add and subtract at will. You can even multiply, doubling this recipe for example if you have a large barbecue party in your future.
This recipe calls for some chipotle sauce, right out of the can. Go easy. A teaspoon here is plenty to supply smoky notes. Too much chipotle and the watermelon will be lost in the haze.
---
Watermelon and Pineapple Salsa with a Splash of Tequila
Yield: about 4+ cups
Ingredients:
3 cups diced seeded watermelon
1 cup diced pineapple [but 2 cups is fine]
⅓ cup tequila
Juice of 1 lemon
Juice of 1 lime
1 teaspoon of chipotle paste
¼ cup brown sugar
1 teaspoon rice vinegar
Kosher salt and freshly ground pepper to taste
1 handful of chopped fresh cilantro
1 bunch of scallions thinly sliced
Preparation:
Add the the watermelon, pineapple, and tequila to a bowl and stir to mix.
Add the lemon and lime juices plus the chipotle paste. Stir to mix, then add the brown sugar and vinegar. Test taste and add salt and pepper to fit your palate. In this salsa, pepper is a happy partner for the cucumber.
Finish by topping with the cilantro and scallions, stir to mix only lightly — you want to keep the cilantro and scallions on top largely for visual appeal. Do one final taste test and adjust the salt and pepper.
---
Source: Brian O'Rourke with inspiration from Nueva Salsa by Rafael Palomino and Arlen Gargagliano [Chronicle Books, 2003]
Photo Information: Canon T2i, EFS 60mm Macro Lens, F/4.5 for 1/60th second at ISO‑1600