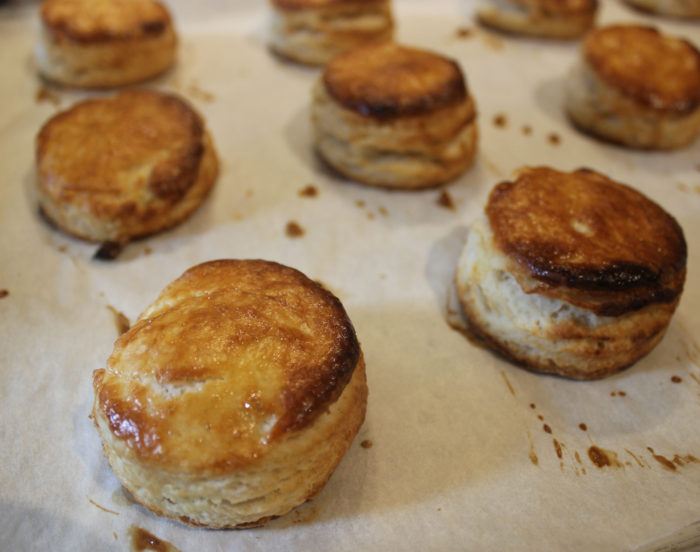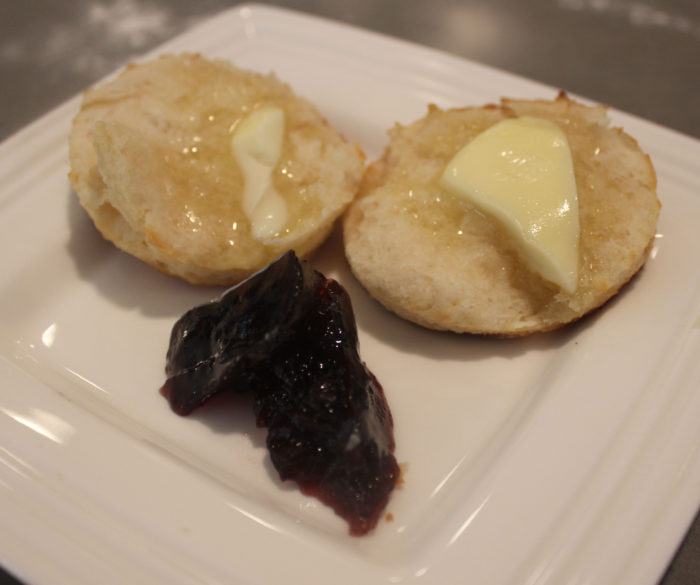 It was Sunday and I rolled over in bed, looked at my wife and asked her what any husband would: "Biscuits?"
"No, silly, scones."
I know that in our future we will again make biscuits but right now it is scones. British scones. Scones from the Claridge's cookbook. Claridge's is one of the preeminent hotels in the world, not just Britain, not just London. This recipe has been perfected by a most professional staff over many decades. It's a shame almost to say "scone" here. After all, you can go to Starbucks and get a scone, right?
I shudder. You have never, ever tasted anything like this. It is baking nirvana.
The recipe calls for mixing the dry ingredients including the butter, then refrigerating them overnight. We did that, and the resulting scone has a texture unlike anything we've experienced. We have also cheated and just made the darn things all in one ten-minute pass. Still awesome but if you can, do the overnight bit.
Unlike anything you have had. Life changing. No more Starbucks scones for you!
The Claridge's cookbook is quite a culinary tour. You can see my review here.
---
Claridge's Scones
Yield: serves 2
Ingredients:
33Og (11 ½ ounces) plain flour, plus extra for dusting
60g (2 ¼ ounces) caster sugar
1 ½ tbsp baking powder
¼ tsp salt
90g (3 ¼ ounces) cold unsalted butter, cubed
70g (2 ½ ounces) raisins (optional)
110ml (3 ¾ ounces) buttermilk
90ml (3 ounces) milk
1 egg, beaten with a pinch of salt, for the eggwash
Preparation:
In a large bowl, combine the flour, sugar, baking powder and salt, then add the butter and rub into the flour mixture with your fingers until you have a fine crumb (you could also pulse this 5-6 times in a food processor to achieve the same sandy texture, but it's almost as fast to work by hand). If you're making raisin scones, stir the raisins in now. Transfer to a smaller container, cover and leave to rest in the refrigerator overnight, or until thoroughly chilled.
The next morning, preheat the oven to 240°C (475°F), Gas Mark 9.
Transfer the butter and flour mixture to the stand mixer. Slowly mix in the buttermilk and milk until the dough comes together.
On a lightly floured surface, roll out the dough to form a circle, about 21cm (8 ¼ inches) in diameter and 2cm (¾ inch) thick, then cut out 12 scones using the pastry cutter. Transfer the scones to the prepared baking tray.
Using a pastry brush, carefully brush the tops with the eggwash. We like to let our scones 1 sit out for 20 minutes at room temperature to give the baking powder a chance to activate before we bake them.
Bake until evenly golden, about 12-13 minutes. Leave to cool for 5 minutes, then serve warm.
We strongly suggest serving these only on the day of baking. Leftover scones can be frozen and will remain good for up to 3 weeks: as needed, defrost completely, then reheat in a preheated 180°C (350°F), Gas Mark 4 oven for 3 minutes.
---
Source: Claridge's The Cookbook by Meredith Erickson [Mitchell Beazley, 2017]
Photo Information [top]: Canon T2i, EFS 60mm Macro Lens, F/3.5 for 1/30th second at ISO‑200
Photo Information [bottom]: Canon T2i, EFS 60mm Macro Lens, F/3.5 for 1/30th second at ISO‑400