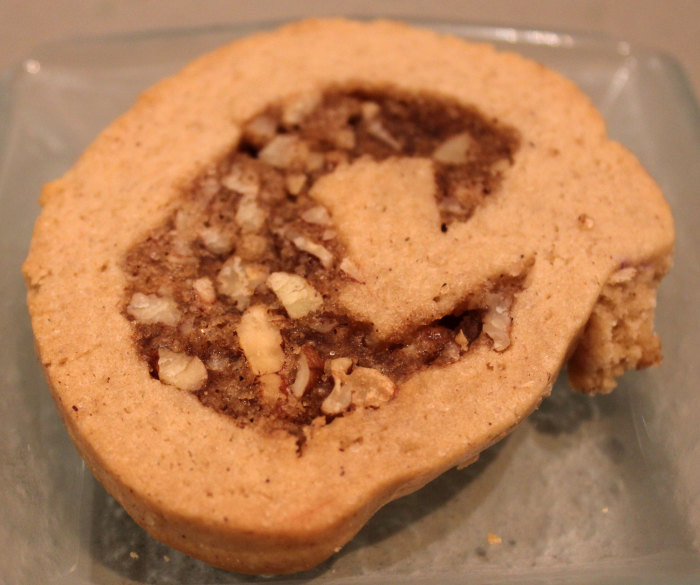 It's the Holiday Season now in full force. Right until Super Bowl Sunday. It's a time for beverages and desserts. Snacking desserts. Today's TBT recipe is a cookie delight. If you like "filled" cookies and cinnamon, then this is your target! I published this three years ago and we make it three or four times a years. Cinnamon comfort food.
---
Fans of this blog know that I have a favorite cookie: the Maxine, a refrigerator cookie with a chocolate-nut center wrapped in a dough, sliced and baked. I've made it for Christmas for over 30 years. Suzen and I no longer have a tree every year, but we do have this cookie.
Here is a rival for the Maxine, a cookie we will certainly make next Christmas — and probably before.
This cookie is not merely good or great. It is exceptional. It is a tad crumbly as you can see from the picture but that may be because I went an extra minute or so in the oven. I'll just have to make more and see, won't I?
From my earliest memories, I can still taste the different kinds of cookies my grandmother would bake. Chocolate chip, of course, and peanut butter. Drop cookies, and bars, are the easiest ones to make. Which is why I always found refrigerator cookies to be something extra special. Those added steps of rolling, freezing, and slicing seemed to mean that extra care was being given to the cookies I was about to devour. And the tradeoff for excellence was having to be patient until the rolls of dough were really frozen and really ready to be sliced.
The dough here is exceptional: the easiest dough to work with and roll out I have ever encountered. Much easier than the Maxine dough which can be a little stiff. The reason? The cream cheese. This dough can be effortlessly rolled and then wrapped around the filling and, when frozen, slices flawlessly.
This recipe comes from a wonderful new cookie book published by Better Homes and Gardens, The Ultimate Cookie Book. There are nearly 400 recipes in the book. I've tagged over 50 to try. I think "ultimate" is an understatement.
I made changes to the recipe, reflected in the picture you see above. I used only butter for the dough, not half butter and half shortening. I have a shortening phobia.
Second, I doubled the amount of filling, which is why that filling seems a little pudgy in the picture. When I made the original filling, following the recipe with half the ingredients listed below, there just did not seem to be "enough" filling. In the book, the cookies are pictured as dainty rolls. I know that mine look like football linebackers. The upside is that the filling is rich and cinnamony.
Third, and last, the original recipe called for drizzling a little vanilla icing over the cookies, steaks of powdered sugar combined with milk and vanilla. It's something you can do, and might make this more of a holiday cookie. Without the icing, there is no competition for the cinnamon flavor.
If you love to make cookies, if you are a fan of refrigerator cookies, then you will want to try this recipe. The dough is so delightful to work with that I'm sure you'll be toying with other fillings besides this cinnamon-sugar-nut concoction. On a cold winter's afternoon, this is the best way to experiment with culinary chemistry.
---
Cinnamon Sugar Roll Cookies
Yield: ~30-40 cookies depending on how you slice them
Ingredients:
For the dough:
½ cup butter, softened
2 ounces cream cheese, softened
1 cup packed brown sugar
½ teaspoon baking powder
½ teaspoon salt
½ teaspoon ground cinnamon
¼ teaspoon ground nutmeg
1 egg
2 teaspoons vanilla
2 ½ cups all-purpose flour
For the filling:
1 cup dry-roasted salted mixed nuts, finely chopped
½ cup packed brown sugar
1 teaspoon ground cinnamon
4 tablespoons butter
Preparation:
In a large mixing bowl beat butter, shortening, and cream cheese with an electric mixer on medium to high speed for 30 seconds. Add the 1 cup brown sugar, the baking powder, the salt, the V2 teaspoon cinnamon, and the nutmeg. Beat until combined, scraping sides of bowl occasionally. Beat in egg and vanilla until combined. Beat in as much of the flour as you can with the mixer. Using a wooden spoon, stir in any remaining flour.
For the filling, in a medium bowl stir together the ½ cup mixed nuts, the ¼ cup brown sugar, and the ½ teaspoon cinnamon. Using a pastry blender, cut in the 2 tablespoons butter until mixture clings together.
Roll dough between sheets of lightly floured waxed paper into a 16×9-inch rectangle. Remove top sheet of waxed paper. Sprinkle dough with filling to within ½ inch of the edges. Starting from a long side, roll up dough using bottom sheet of waxed paper to help lift and guide the dough. Moisten edges; pinch to seal. Wrap log in plastic wrap or waxed paper. Freeze about 2 hours or until firm enough to slice.
Preheat oven to 375°F. Line a cookie sheet with parchment paper. Using a sharp knife, cut log into ⅓-inch slices. Place slices 2 inches apart on the prepared cookie sheet.
Bake about 8 minutes or until edges are lightly browned. Cool on cookie sheet for 2 minutes. Transfer to a wire rack; cool.
---
Photo Information: Canon T2i, EFS 60mm Macro Lens, F/4 for1/50th second at ISO 1000