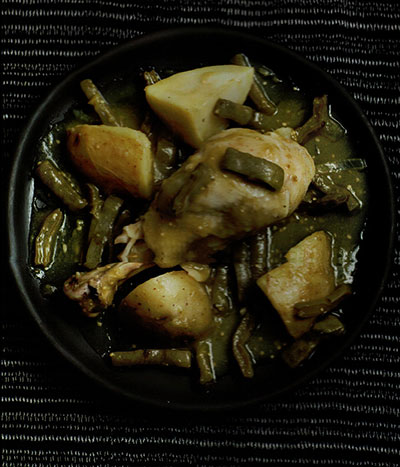 From the recent hit cookbook Oaxaca comes this "mom dish." This is dish that you would have waiting for you on a Wednesday afternoon when you come home from school. Golly, I wish I were back in school in Oaxaca.
Oaxaca is considered the culinary capital of Mexico. The flavors are rich, intense. So too are colors. The dark green here comes from tomatillos and cactus leaves [nopales]. That blackish green tells your taste buds to expect earthiness with sublime concentration.
To heck with Wednesday afternoon. Serve this for Sunday dinner. It's a feast fit for any day.
---
Chicken in Green Salsa with Potatoes and Cactus
Yield: serves 4 to 6
Ingredients:
1 whole chicken (about 2 pounds/1 kg), butchered into eight pieces
Sea salt and freshly ground black pepper
3 tablespoons vegetable oil
1 cup (170 g) peeled and halved baby potatoes
Generous 1 pound (500 g) tomatillos (preferably the purple Milpero variety), husked and rinsed
¼ cup (35 g) chopped white onion
3 cloves garlic, minced
1 serrano chile, stem removed
1 cup (40 g) chopped cilantro
3½ ounces (100 g) nopales, dethorned and sliced into 1-inch (2.5 cm) strips
1 cup (240 ml) chicken broth
Corn tortillas (store-bought or homemade, for serving)
Preparation:
Generously season the chicken pieces with salt and pepper.
Heat the oil in a Dutch oven or other heavy-bottomed pot over medium heat. When hot, add the chicken pieces and brown them for about 5 minutes on each side until a very light golden coating forms. Lower the heat. Add the potato es and cook for another 5 minutes, lightly stirring so the potatoes get a little brown as well.
Meanwhile, in a blender, combine the tomatillos, onion, garlic, serrano chile, and cilantro with 1 cup (240 mI) of water and blend until smooth.
Carefully add this raw salsa and the chicken broth to the pot.
Raise the heat and bring to a boil, stirring occasionally. Bring back down to a simmer and cook for 20 minutes or until the chicken is cooked through. Taste for salt and adjust as necessary. Add the nopales and simmer for 5 minutes more.
Serve with tortillas.
---
Source: Oaxaca, Home Cooking from the Heart of Mexico by Bricia Lopez [Abrams, 2019]