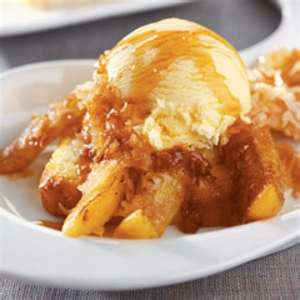 I think everyone has heard about Bananas Foster, but I would wager that not many of you have had it. It may appear too showy, or something only a restaurant could do — probably only a restaurant in New Orleans. Too boozy perhaps, and there is the fire thing involved. No one wants to burn down their own kitchen. Let the restaurant take the risk. And Bananas Foster is a diet buster.
None of that is true. Okay, it's not exactly a tummy slimmer, but this is an important dessert. Why? It's your culinary lifesaver. I always taught my kids to have an option. That's advice for everyone.
Imagine this: you have important company on the way and you need a spectacular dessert. Your cake just fell flat, your pie crust looks like wallpaper paste, your brownies have burnt, your child "helped" you frost that fallen cake, or — yes — the dog got into dessert.
You have an emergency and no time. What to do? Bananas Foster is the elegant emergency dessert. You need bananas on hand, that is true, but if you do, then in 10 minutes you can have a truly wonderful dessert. I never tire of eating Bananas Foster. It is rich, satisfying and a treat. If your guests have never had it, they are going to consider you a culinary whiz.
Now, I've suggested that this dessert is for emergencies. I have also read that this dessert is frequented by sugar addicts in the post-midnight hours. In those quick 10 minutes, you can peel a banana, melt butter and sugar, and warm booze. For all potential diabetic patients, this is an expressway to satisfaction.
As I say, I've just heard that some people do this sort of thing. Of course, I myself would never stoop to such sad, pathetic behavior. That is to say, there are no witnesses.
Oh, after midnight, you might be tired so do be careful about banana peels on the floor. You don't want to slip at night, and in the morning you certainly don't want your wife to have any idea that …
I have been told that this is the original recipe from Brennan's Restaurant in New Orleans, circa 1951.
Real Bananas Foster
Yield: 4 servings
Ingredients:
¼ cup [½ stick] unsalted butter
1 cup brown sugar
½ teaspoon cinnamon
¼ cup bananas liqueur
4 bananas, peeled and sliced in half
¼ cup dark rum
4 scoops vanilla ice cream
Preparation:
Combine the butter, sugar, and cinnamon in a flambé pan or skillet. Place the pan over low heat either on an alcohol burner or on top of the stove, and cook, stirring, until the sugar dissolves.
Stir in the banana liqueur, and then place the bananas in the pan. When the banana sections soften and begin to brown, carefully add the rum. Continue to cook the sauce unit the rum is hot, and then tip the pan slightly to ignite the rum.
When the flames subside, life the bananas out of the pan and place four pieces over each portion of ice cream. Generously spoon warm sauce over the top of the ice cream and serve immediately.
Source: brennansneworleans.com