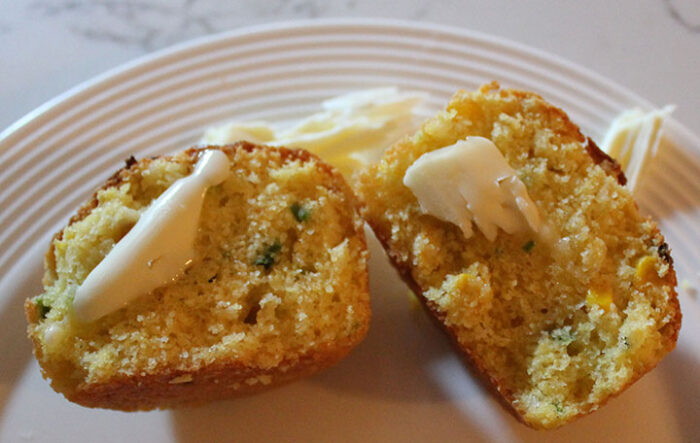 This recipe comes from the lovely Mexican Breakfast Cookbook, a treasure from the 1990s. The recipe there calls for using blue cornmeal. Well, I tried several stores. I couldn't find it.
I told my wife.
"Don't worry about it. I think the color will be better with just regular cornmeal. It's not going to affect the flavor."
The flavor. The glory of corn kernels with pieces of jalapeno all embedded in that earthy flavor that can come only from cornmeal. Yellow or blue.
Jalapenos for breakfast? Hot out of the oven, with some butter and honey, it's fine.
We actually ate these at 6 PM with Tomatillo Salsa while drinking Gin & Tonics. We were watching an NFL playoff game and did want nachos. I did want muffins and, by God, they were as good as nachos.
---
[Blue] Corn Jalapeno Muffins
Yield: 12 muffins
Ingredients:
½ cup softened butter
½ cup sugar
3 eggs
6 jalapenos, seeded and minced
1 cup corn kernels, fresh or canned
2 cups medium sharp Cheddar cheese, grated
1 cup all-purpose flour
1 ¼ cups blue cornmeal [or regular yellow]
3 teaspoons baking powder
1 teaspoon salt
Preparation:
Preheat oven to 375 degrees F. Beat the softened butter until light and add sugar. Add 1 egg at a time to the mixture, beating well after each addition.
Add all the rest of the ingredients in the order given and stir just until blended. If batter seems runny, add ¼ cup more all-purpose flour.
Spoon batter into greased 12-cup muffin tin. Bake for about 20 minutes or until golden.
---
Source: Mexican Breakfast Cookbook by Jacqueline Higuera McMahan
Photo Information: Canon T2i, EFS 60mm Macro Lens, F/3.5 for 1/30th second at ISO‑400