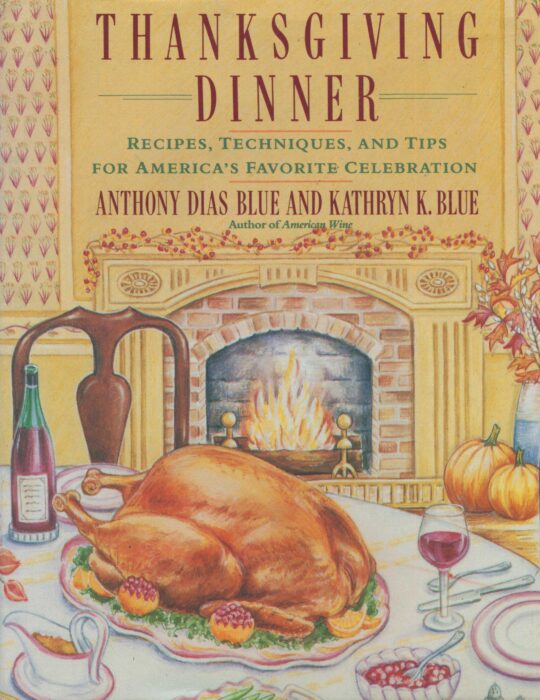 For most of our lives, we stuffed the Thanksgiving Turkey with — drumroll — stuffing. Now we know that it is a safety issue and we need to cook our stuffing outside the turkey. And that gives us some opportunity, for variety and for spacing out the work of the Thanksgiving meal.
I don't have a picture yet of this stuffing, so I'm using a cookbook cover. But after we make this stuffing this year, I will backtrack and give you photo of this delightfully different idea. We are going to make two stuffings this year: this couscous and a traditional bread stuffing [with no sausage]. And, we are making them on Tuesday as a way of evening out the cooking load. Making everything on Thanksgiving itself — turkey, mashed potatoes, stuffing, side dishes and dessert — can leave you exhausted through the rest of the holidays. Here, you can just have Stuffing Tuesday, concentrate on the culture of flavors, and enjoy the intensity of "leftovers" on Thanksgiving. Haven't you always said that the leftovers are better the next day?
The combination of couscous, corn, and garlic makes an unforgettable stuffing for small birds. The authors of Thanksgiving Dinner, the Blues,  say this stuffing is ideal for with chicken, game hens, and small turkeys.
Couscous Stuffing
Yield: 20 pieces, enough for 5-6 people
Ingredients:
1½ cups Chicken Stock
2 tablespoons unsalted butter
¼ teaspoon salt
1 cup whole wheat couscous
2 tablespoons olive oil
2 large shallots, finely chopped
2 small celery stalks without leaves, finely chopped (about ¼ cup)
3 baby carrots, finely chopped (about ¼ cup)
1 clove garlic, minced
¼ cup corn kernels, fresh or frozen
¼ cup pine nuts, toasted
½ cup minced fresh parsley
1 tablespoon fresh sage
l teaspoon Bell's Seasoning, or ½ teaspoon dried oregano and ½ teaspoon dried thyme
Salt and freshly ground pepper
Preparation:
In a l-quart saucepan combine the stock, butter, and salt. Bring to a boil over medium heat. Add the couscous in a steady stream and stir. Reduce to a simmer and cook for 5 minutes. Fluff the couscous with a fork and set pan aside in a warm place.
In a medium skillet, heat the oil. Lightly sauté the shallots, celery, and carrots for 2 minutes. Add the garlic and sauté for another minute. Spoon into a medium mixing bowl.
Add the couscous, corn, pine nuts, parsley, sage, and Bell's Seasoning to the vegetables. Toss to combine (don't press too hard, try to keep the stuffing fluffy). Add salt and pepper to taste.
ADVANCE PREPARATION: Can be prepared 2 days ahead. Cover and refrigerate. Bring to room temperature before using.
Source: Thanksgiving Dinner by Anthony Dias Blue and Kathryn K. Blue