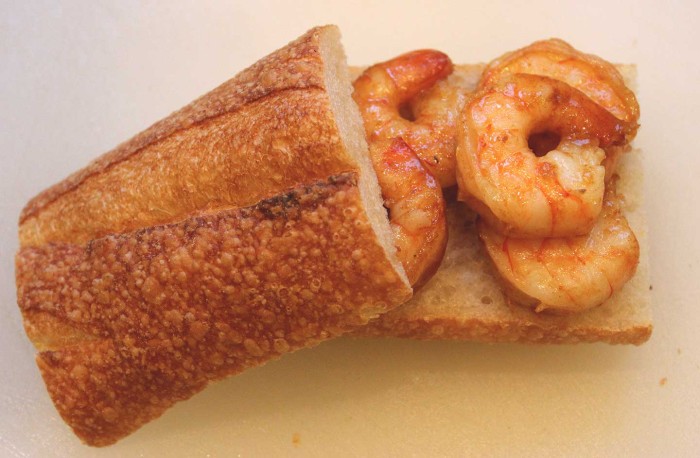 From The Southern Po'Boy Cookbook comes this shrimp po'boy that commands you have a beer in your left hand [or right, but somewhere]. As po'boys go, this one is simple to prepare and not terribly gooey, but it is rich in flavor. Well, most correctly, it is rich in butter and spices which combine to give you a lively sandwich treat.
Author Todd-Michael St. Pierre calls this sandwich a "flavor bomb of New Orleans goodness." Perhaps the word "bomb" is problematic, but this po'boy does provide an explosion of taste and smell you will definitely enjoy. I love the contrasting texture of soft bread and crunchy shrimp.
Besides the beer, a bowl of cole slaw would be an excellent accompaniment.
Take a look at The Southern Po'Boy Cookbook for a bevy of sandwich ideas. And you may enjoy my review of the book as a whole:
The Who Dat Po'Boy
Yield: serves 4
Ingredients:
• 2 tablespoons canola oil
• 1 pound extra-jumbo [16-20 count] shrimp, peeled and deveined
• 3 tablespoons chopped scallion, both white and green parts
• ¼ cup dry white wine
• 1 teaspoons chopped fresh garlic
• 4 tablespoons Worcestershire sauce
• 1 teaspoon Tabasco sauce
• 1/8 teaspoon cayenne
• ½ teaspoon paprika
• 1 cup [2 stick] butter, cut into small cubes
• 1 12-inch loaf of French bread split nearly apart
Preparation:
Preheat a large cast-iron skillet over high heat. Add the oil and sauté the shrimp just until done, about 2 minutes per side. It's best to cook he shrimp in batches in you do not have a large skillet. Removed the cooked shrimp and set aside.
Add scallions to the hot skillet in which you sautéed the shrimp, and cook for 1 minute. Put in the white wined, and let simmer until reduced by half. Then add the garlic, Worcestershire sauce, Tabasco sauce, cayenne, and paprika. Shake the pan well, and cook for 1 minute. Reduce the heat to low.
Gradually add the cubes of butter, shaking the pan briskly to melt the butter. Continue to add butter and shake the pan until all the butter has melted. Add the shrimp back to the pan, and toss well to coat with the butter and seasonings.
Pile the buttered seasoned shrimp into the loaf, close the sandwich, and l cut into four sections to serve.
Source: The Southern Po'Boy Cookbook by Todd-Michael St. Pierre
Photo Information Canon T2i, EFS 60 mm Macro Lens, F/5 for 1/60th second at ISO 2000