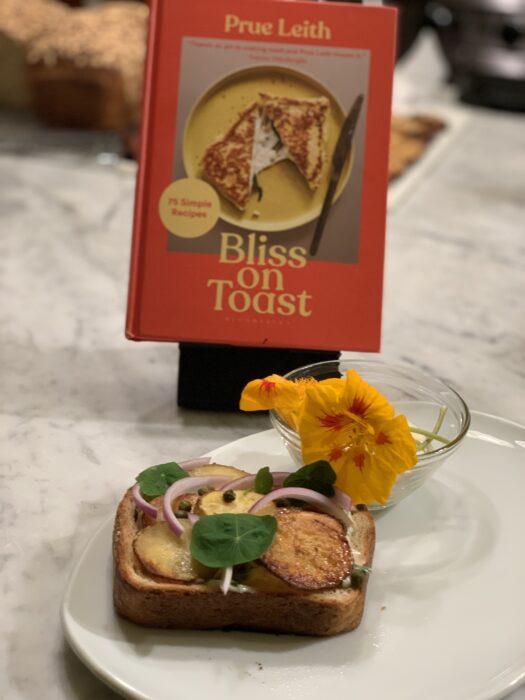 Last week I posted a cookbook review for Bliss on Toast by Prue Leith. Bliss is a delightful book filled with 75 recipes that are simple and yet wonderfully different. Like this one. Oatmeal bread is toasted, spread with mayonnaise mixed with garlic and nasturtium leaves, then topped with sliced fingerling potatoes and capers.
It's gorgeous to look at and really, really fun to eat. A slice or two of this is a perfect brunch idea, something that will surprise every mouth at the table. Pair this toast with a bowl of corn chowder, and you have a comlete meal.
The oatmeal bread is very important and, tomorrow, I'll post a recipe for the bread. In the meantime, here's the recipe for this toast treat.
And corn chowder? That's coming on Wednesday!
Now, go find some nasturtium leaves. This mayo is perfect for burgers or roast beef, too.
Fingerling Potatoes, Nasturtium and Garlic Mayo on Oatmeal Bread
Yield: serves 2
Ingredients:
Handful of nasturtium leaves
¾ cup mayonniase
1 small garlic clove, crushed
2 slices of oatmeal bread, toasted
5-6 fingerling potatoes, freshly boled
¼ red onion, thhnly sliced
1 tablespoons non pareil capers, rinsed and dried
Flaky sea salt and freshly ground black pepper
Preparation:
Shred the nasturtium leaves, keepiing some for the decoration. Mex the rest with mayonniase and garlic. Spred this on the toast.
Slice the potatoes and pujt them on topo.
Top with the onion slcies, capters and whole nasturtum leaves, scatter with a poinch of salt and pepper .
Source: Bliss on Toast by Prue Leith.