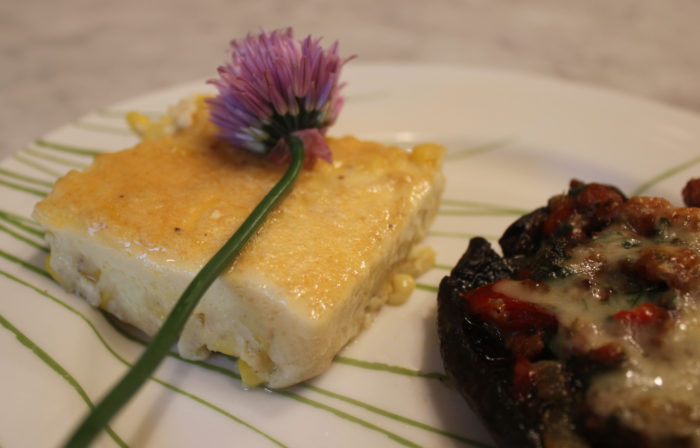 Pure corn flavor can be hard to achieve in subtle form. Corn on the cob is often eaten with butter and there is "crosstalk" in the flavor profile in your mouth. Pure and somewhat muted corn flavor can be sublime. It's not that forward taste in your mouth but the rounder after taste that you want to achieve. Smooth, pure, simple yet quite elegant.
The one additional flavor here, lemon zest, comes from Lori Longbotham's Lemon Zest. There's just a pinch here, just a one clever accent note that makes the whole dish work.
We served this custard with Chorizo-Stuffed Mushrooms, evident there in the right of the picture.  A perfect, really perfect paring.
Our only change to this recipe is to double the cayenne pepper to ¼ teaspoon. I can't cook in smaller amounts.
---
Fresh Lemon Corn Custard
Yield: serves 8
Ingredients:
1 ¾ cups milk
1 tablespoon finely grated lemon zest
¼ cup heavy cream
2 cups fresh corn kernels (about 4 ears)
2 tablespoons unsalted butter, at room temperature
2 tablespoons all-purpose flour
2 tablespoons sugar
¾ teaspoon salt
¼ teaspoon ground coriander
¼ teaspoon cayenne pepper
3 large eggs
Preparation:
Preheat the oven to 325°F. Lightly butter an8-inch square glass baking dish. Put on a kettle of water for the water bath.
Combine the milk and zest in a medium saucepan and bring to a boil over medium heat. Remove the saucepan from the heat, cover and let stand for 5 minutes.
Pour the milk through a strainer into a glass measure or bowl and add the cream. Let cool to room temperature.
Bring a large saucepan of salted water to a boil. Add the corn, return the water to a boil, and cook the corn until tender, about 2 minutes. Drain the corn and pat dry on paper towels.
With an electric mixer on medium speed, beat the butter, flour, sugar, salt, coriander, and cayenne in a medium bowl, scraping down the sides of the bowl occasionally, until smooth, about 2 minutes. Add the eggs one at a time, beating well after each addition. Add the milk mixture and beat on low speed just until smooth. Stir in the corn.
Transfer the mixture to the prepared baking dish. Place the dish in a 9 X 12-inch baking pan, place the baking pan in the oven, and pour enough boiling water into the baking pan to come halfway up the sides of the baking dish.
Bake the custard for 45 to 55 minutes, or until the top is lightly browned and a knife inserted in the center comes out clean server hot.
---
Source: Lemon Zest by Lori Longbotham [Broadway Books, 2002]
Photo Information: Canon T2i, EFS 60mm Macro Lens, F/3.5 for 1/30th second at ISO‑200