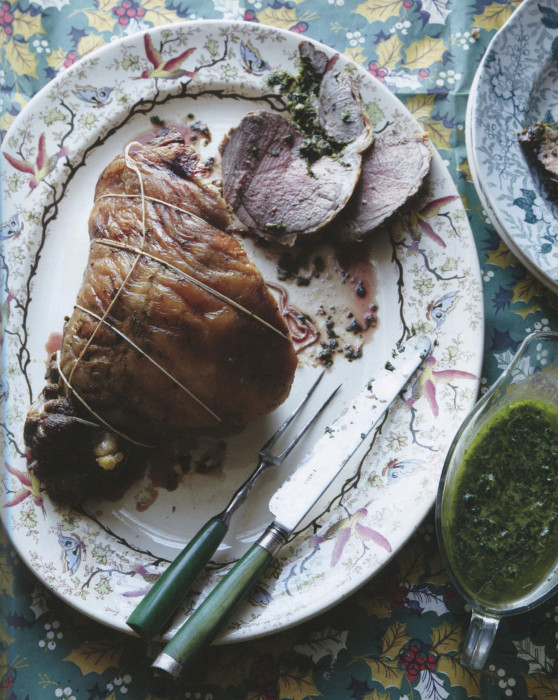 Do-Ahead Christmas by James Ramsden is filled with recipes that will make your holiday feast ideas – but without exhausting you. The recipes here can be started hours or days in advance, then easily finished just before meal time.
Now, Christmas may be over, but there is New Year's Eve and New Year's Day. Those are two evening that call for festive dishes. Here is a very British suggestion: leg of lamb stuff with herbs and accompanied by a most tangy anchovy sauce. What better way to say goodbye to one year and hello to another?
---
Herb-Stuffed Leg of Lamb with Watercress and Anchovy Sauce

Yield: serves 8

Ingredients:

For the meat:

1 ¾ ounces parsley leaves (the odd stalk is fine)
½ ounce mint leaves [about 10]
2 tablespoon rosemary needles, roughly chopped
2 garlic cloves, roughly chopped
4 tablespoons olive oil
1 boned leg of lamb, about 4 ½ pounds
Salt and pepper
For the sauce:

7 ounces watercress
1 ounce parsley
1 ¾ ounces canned anchovies
7 tablespoons unsalted butter
Juice of ½ lemon
Preparation:

UP TO 3 DAYS AHEAD (MIN. 2 HOURS):
Put the parsley, mint, rosemary, garlic and olive oil in a blender with a good pinch of salt and pepper and blend until smooth. Alternatively finely chop the herbs and garlic and mix with the oil.
Lay the lamb fat-side down on a board and season. Spread the herb mix across the inside, roll up tightly, then tie up tightly with string (there are videos online to guide). Cover and chill.
UP TO 1 DAY AHEAD (MIN. 1 HOUR):
To make the sauce, get a pan of salted water on the boil, and fill a bowl with ice-cold water. Add the watercress and parsley to the boiling water and leave for 30 seconds, then transfer to the iced water. Leave to cool, drain, then squeeze out all the liquid. Finely chop or blend in a food processor, together with the anchovies, then cover and chill.
2 HOURS AHEAD:
Preheat the oven to 425°F. Take the lamb out of the fridge and season all over with salt and pepper.
90 MINUTES AHEAD:
Roast the lamb for 15 minutes, then turn the oven down to 190°C/ 375°F/Gas mark 5 and roast for a further 45 minutes. Remove from the oven, cover loosely with foil and rest in a warm place.
15 MINUTES AHEAD:
To finish the sauce, melt the butter over a medium heat and add the watercress/anchovy mixture. Gently simmer for a few minutes, stirring occasionally, then stir in the lemon juice and a twist of pepper.
TO SERVE:
Care the lamb in thick slices and serve with the sauce on the side.
Source: Do-Ahead Christmas by James Ramsden [Pavilion, 2014]