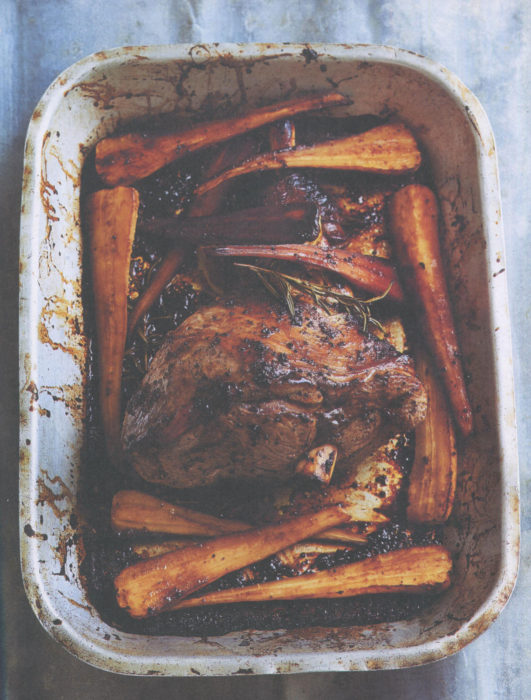 Here's another flavor jammed idea from Jenny Tschiesche and Sheet Pan Cooking. A full meal all at once in that mundane sheet pan you have lying about. Now, Americans do eat a lot of honey and mustard. Lamb? Not so much. Parsnips? I bet most of you have never, ever eaten a parsnip. That's a shame.
Parsnips are closely related to carrots and, yes, parsley. They were native to Eurasia and eaten by Romans and Greeks who thoroughly documented their culinary versatility. In the United States, the turnip came to us from both French and British colonists. It was the primary root vegetable for decades but was replaced in the mid-19th century by something called the potato. You may have encountered a potato here and there. As a consequence, turnips are far less cultivated today. You do, of course, always pass by a section of parsnips in your produce section at the grocery store. They are there, and folks do cook them. Mashed parsnips for Thanksgiving? Yummy. Mashed parsnips and potatoes? Glorious
And, certainly, you can always add that other root vegetable you've neglected as well: turnips. You can mix and match turnips, parsnips and potatoes at will and certainly in this recipe. Some people find parsnips sweeter than turnips, less peppery. You can run your own taste tests and discover your favorite. Or just use them both for a richness of roots.
---
Honey Mustard Lamb and Parsnips
Yield: serves 4
Ingredients:
1/2 leg of lamb, roughly 2 ¼ pounds
¼ cup tamari
2 tablespoons honey
1 ½ tablespoons wholegrain mustard
2 tablespoons warm water
5 parsnips, peeled and sliced lengthways into thirds
4 sprigs of fresh rosemary
Preparation:
Take the lamb out of the refrigerator an hour before you are ready to cook it.
To make the marinade, mix the tamari, honey, mustard and warm water together in a bowl.
Put the lamb on a sheet pan with high sides and pour the marinade over the top. Leave to marinate for 1 hour, turning over a couple of times while marinating.
Preheat the oven to 400°F.
Put the parsnips and rosemary in the sheet pan with the lamb and tuck under the lamb. Spoon a little of the marinade over the lamb. Put the sheet pan in the preheated oven and roast the lamb for about 55 minutes for rare adding another 10 minutes for medium.
Remove the lamb from the oven and leave to rest, covered in foil, for 10 minutes, before serving with the parsnips. The parsnips can remain in the oven in the residual heat while the lamb rests.
---
Source: Sheet Pan Cooking by Jenny Tschiesche [Ryland Peters &Small, 2018]