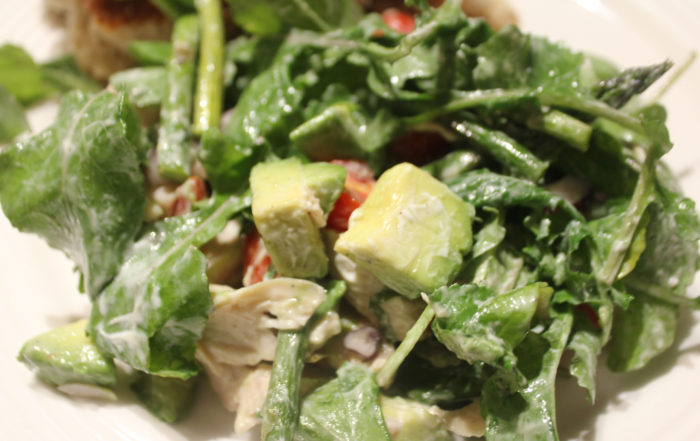 I recently gave an enthusiastic review of The Goodness of Honey. This is one of the recipes that struck my eye on the first pass through the book. A lovely salad with turkey, avocado and tomatoes topped with a Mediterranean-style dressing of yogurt, mint and lemon juice. The turkey is cooked with honey but you can double down and add a bit of honey to the dressing, too. After all, it's honey. And honey is really good for you. Just check out The Goodness of Honey and you'll be convinced!
---
Honeyed Turkey and Avocado Salad
Yield: serves 2
Ingredients:
For the salad:
8 asparagus spears
1 tablespoon runny honey
1 teaspoon soy sauce
11 ounces turkey breast
3.5 ounces watercress [or green of your choice]
7 ounces cherry tomatoes, halved
1 avocado
For the dressing:
12 tablespoons Greek-style yogurt
1 tablespoon chopped mint
Juice of 1 lemon
Salt and freshly ground black pepper
Preparation:
Preheat the grill to high. Place the asparagus on a baking tray and season well. Cook under the grill until tender, about 5 minutes. Leave the grill on for the turkey.
Mix the honey and soy sauce together and pour it over the turkey breast. Grill the turkey for 8 minutes on each side.
For the dressing, combine the yogurt, mint and lemon juice together and season well.
To serve, divide the asparagus, watercress, tomatoes and avocado between two plates, top with the sliced turkey and drizzle over the dressing.
---
Source: The Goodness of Honey by Hannah Coughlin [Kyle 2018]
 Photo Information: Canon T2i, EFS 60mm Macro Lens, F/3.5 for 1/30th second at ISO‑400