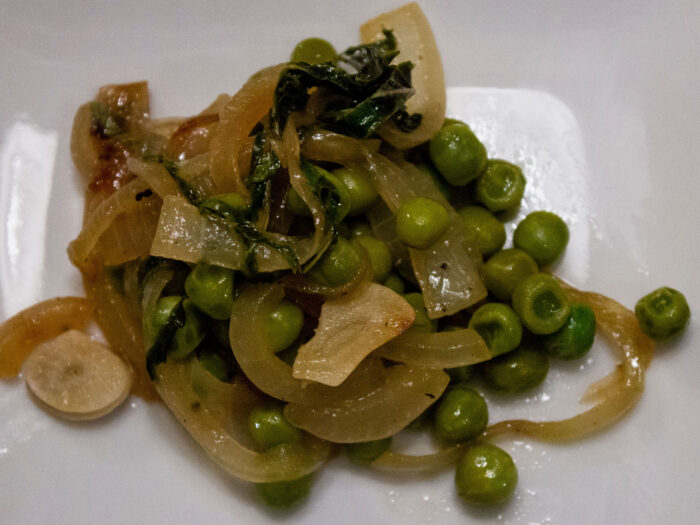 The subtitle of Southern Baked is Celebrating Life with Pie. It's a great book but not every recipe is pie. In fact, here's a vegetable recipe that is far, far from pie.
How do you feel about peas? I love them. I don't eat them very often. I suspect many of us had our pea-loved demolished when we were fed canned peas. Dreadful.
Peas are actually one of the few foods you can freeze without harm. Defrosted peas are really close to fresh.
Which is why this recipe, using either fresh or thawed peas, works so wonderfully. The surprise here is taking the combo of peas and onions and then layering the flavors of lemon juice and mint. The result is a flavor explosion that that will surprise you. Peas become sophisticated here. This was, in fact, our side dish at Christmas. We had Chicken with Chipotle Cream and these peas.
I didn't miss the traditional Christmas mashed potatoes!
---
Lemony Green Peas
Yield: serves 6
Ingredients:
1 ½ tablespoons olive oil
1 tablespoon butter
1 cup chopped Vidalia onion
2 cloves garlic, sliced
3 cups fresh or frozen and thawed green peas
½ teaspoon kosher salt
½ teaspoon freshly ground black pepper
½  teaspoon lemon zest
1 tablespoon freshly squeezed lemon juice
1 tablespoon chopped fresh mint leaves
Preparation:
Heat oil and butter in a skillet over medium-high heat. Add onion and sauce for 5 minutes. Add garlic and sauce for 1-2 more minutes. Add peas and sauce 5 minutes until peas are cooked though. Reduce heat. Add salt, pepper, zest, and juice and toss until combined. Remove from heat and garnish with mint. Serve warm.
---
Source: Southern Baked, Celebrating Life with Pie by Amanda Wilbanks [Gibbs Smith, 2018]
Photo Information: Canon T2i, EFS 60mm Macro Lens, F/5.6 for 1/100th second at ISO‑3200