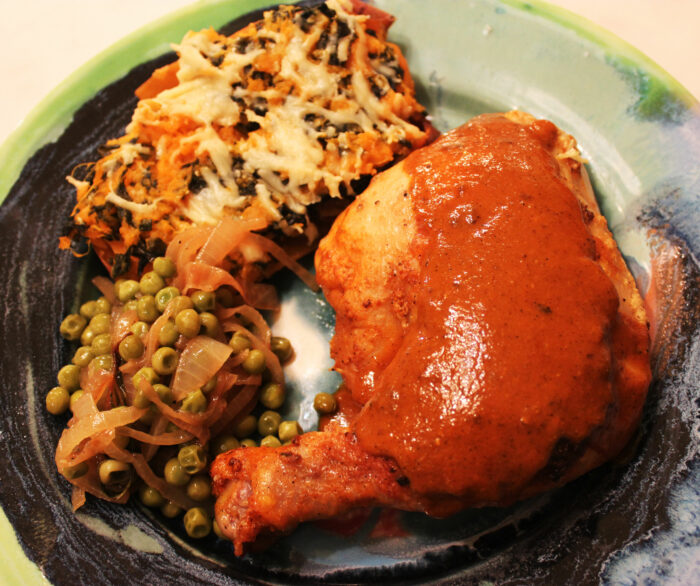 I just reviewed Oaxaca, a new cookbook devoted to the magnificent cuisine of Mexico's culinary capital. This is a comfort food dish, one you are more likely to find in a home kitchen than a restaurant.
Author Bricia Lopez suggests you eat without knife and fork. Just grab a piece of tortilla, seize a chunk of chicken and let the sauce drip away.
When you see "chipotle" you probably think of heat. That's why this creamy chipotle sauce is such a find for you. It's warm, not scalding. It's yummy and comforting and … Well, you are about to discover a new family favorite.
In the picture above, we paired this chicken with Twice-Baked Sweet Potatoes and Lemony Peas. Here's the sweet potato recipe. The pea recipe appears tomorrow!
---
Pollo Enchipotlado or Chicken in a Creamy Chipotle Sauce
Yield: serves 4 to 6
Ingredients:
1 whole chicken, about 2 pounds, butchered into about 8 pieces
Sea salt and freshly ground pepper
2 tablespoons Dijon mustard
5¼ cups (about 945 g) chopped tomatoes
½ of a small white onion (50 g), chopped
4 cloves garlic, peeled
1 tablespoon olive oil
1 tablespoon butter
3 whole chipotles in adobo plus 2 tablespoons adobo sauce (add an extra tablespoon of sauce for a spicier dish)
3 bay leaves
Mexican crema, for garnish
Preparation:
Season the chicken generously with salt, pepper, and the Dijon mustard. Let sit for 10 minutes.
Cook the tomatoes in a pot over medium-high heat with just enough water to cover them, stirring occasionally, for about 10 minutes.
Preheat your oven's broiler to its highest setting. Place the chopped onion on a baking sheet and broil for 10 minutes on your oven's highest rack, until lightly charred. Add the garlic to the pan and broil for another 5 minutes. Set aside.
Heat the oil and butter in a very large, deep skillet or saucepan over medium-high heat. When the fat starts to smoke, drop the seasoned chicken into the pan and brown it on each side for about 5 minutes.
Meanwhile, in a blender, mix the charred garlic and onion, the cooked tomatoes, and the chipotle chiles and adobe sauce until finely pureed. Pass through a double-fine-mesh strainer for a velvety texture.
Add the chipotle mixture to the skillet along with the bay leaves and mix well with the chicken. Bring to a simmer, cover, and let cook for 10 minutes. Once the sauce starts to change color and the texture resembles heavy cream, it is ready.
Drizzle with Mexican crema.
---
Source: Oaxaca, Home Cooking from the Heart of Mexico by Bricia Lopez [Abrams, 2019]
Photo Information: Canon T2i, EFS 60mm Macro Lens, F/4 for 1/30th second at ISO‑1250