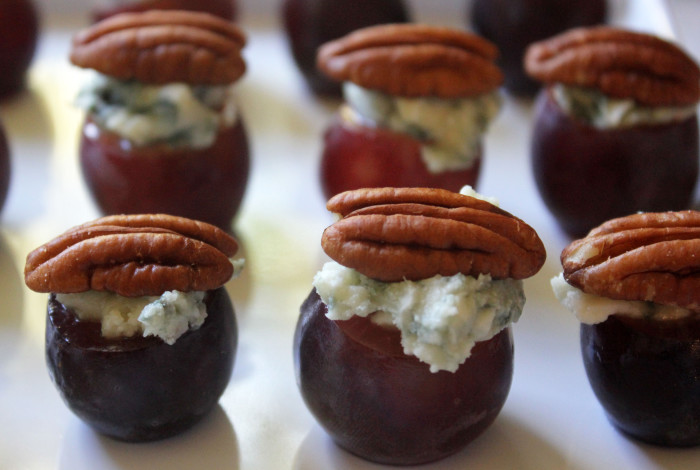 Suzen and I wish you happy Memorial Day. This is a day to trigger memories for many of us, to reflect for even a brief time on the sacrifices made by so many for us. And this is the day that for most of us trumpets, "Summer is here." Forget June 20 and the the calendar and the equinox thing. Summer is here, now, finally.
And, for this holiday weekend, and surely for all the summer weekends to follow, sometimes you want a little treat. Just a mouthful of complex surprise. Gale Gand's Just a Bite is devoted to mini-desserts, but Suzen and I serve this as both dessert and appetizer. Here you have the coolness of seedless grapes, the "heat" of blue cheese, and the raspy, lingering flavor of nuts. This is a simple dish to prepare in quantity if you are having a party. Or just a dozen for yourself on a day when you want to sit back and sip bourbon.
The technique here affords you ample room for experimentation. Not a fan of blue cheese? Substitute away. If you prefer walnuts, which Gale suggests, than do as you wish. Or mix and match. Or use some cashews. There is room for diversity, and you will experience pleasure in every little bite. Just as Gale intended.
---
Maytag Blue Grapes

Yield: 20 pieces, enough for 5-6 people

Ingredients:

2 ounces Maytag blue cheese
20 large seedless grapes: green, white, or red
20 small walnut pieces [or pecan halves if you prefer]
Freshly ground black pepper
Preparation:

Use your hands to roll the cheese into very small balls.
Use a very sharp knife to cut a thin slice off the bottom of each grape to give it a flat bottom to stand on. Cut off the top third of each grape. Use the tip of a knife or small spoon to make a little hollow in each grape (to hold the cheese ball). Press a ball of cheese into each hollow and dot with a nut pieces. Sprinkle with pepper.
Serve immediately or chill for up to 12 hours. The grapes can be served chilled or at room temperature, but do not leave out for more than 4 hours.
Sources: Gale Gand's Just a Bite

Photo Information Canon T2i, EFS 60 mm Macro Lens, F/5.6 for 1/60th second at ISO-1600