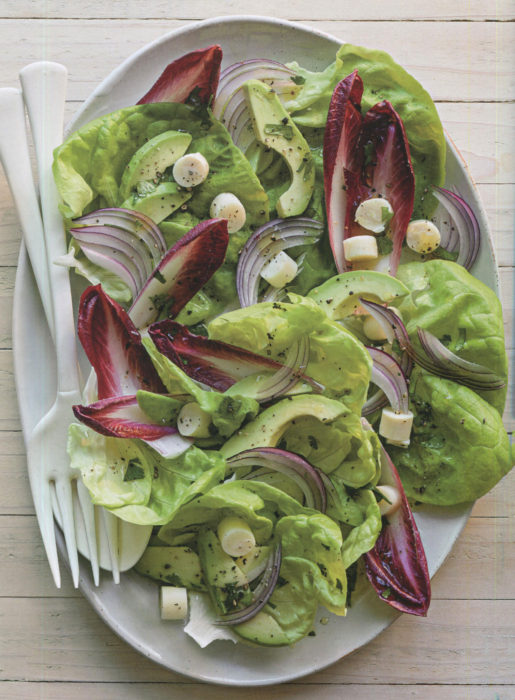 Today's Cookbook Review is for Rustic Mexican from Williams Sonoma. I've included this picture for a Mixed Green salad. The photo is glorious. More importantly, if this was put on the table before you, could you bear to eat it? It's a work of art. Well, maybe I would pause for four or five seconds. There is avocado there. I would begin with a fork darting into soft avocado, then switching densities to the hearts of palm.
This salad can be created in moments. Eaten with delight. Remembered forever.
---
Mixed Greens with Hearts of Palm, Red Onion and Avocado
Yield: serves 4-6
Ingredients:
2 tablespoons fresh lime juice
Fine sea salt and freshly ground black pepper
2 teaspoons extra-virgin olive oil
3 tablespoons minced fresh cilantro, plus 1 cup (30 g) lightly packed whole leaves
6-8 cups mixed baby greens
2 avocados
1 can (14 ounces) hearts of palm, drained
½ red onion, thinly sliced
Preparation:
In a small bowl, whisk together the lime juice, ½ teaspoon salt, ¼ teaspoon pepper, the olive oil, and 1 tablespoon of the minced cilantro to make a dressing.
In a large bowl, toss the greens with the 1 cup cilantro leaves. Drizzle the dressing over the greens and toss to coat evenly.
Cut the avocados in half lengthwise and remove the pits. Working with one half at a time and using a paring knife, cut parallel lines in the avocado flesh, cutting just down to the peel. Use a large spoon to scoop the avocado slices into a bowl.
Rinse the hearts of palm and pat dry with paper towels. cut each heart of palm crosswise into ½-inch slices.
To serve, divide the dressed greens among individual plates and top each serving with some of the sliced avocado, hearts of palm, and onion. serve right away.
---
Source: Rustic Mexican from William Sonoma [Weldon Owen, 2017]