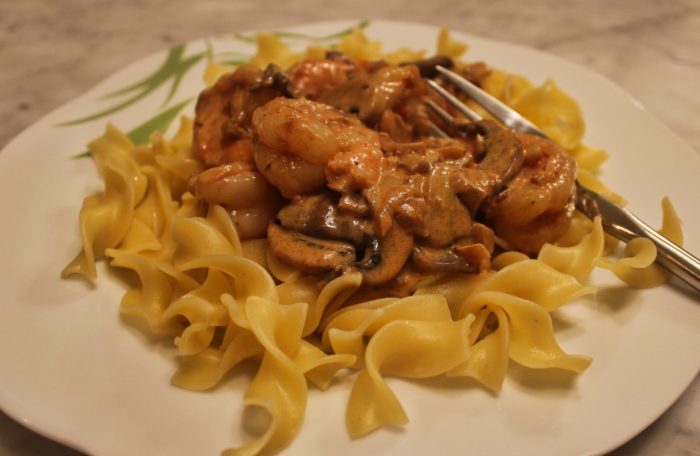 Make this. Just do it. You can thank me later. No remuneration is necessary.
Last week I did a TBT cookbook review for The Ultimate Shrimp Book by Bruce Weinstein. Seriously important book and this recipe caught my eye. My wife Suzi has a few passions. I am one of them. And then there are shrimp — which is why we love this book.
This dish is comfort food par excellence. It's grand. The sauce is filled with rich mushroom flavor that spills over the noodles. Leftovers the next day? If you are lucky enough to have them, enjoy them. This is a simple dish to prepare but the results so sophisticated you'll be beaming with pleasure. And pride.
---
Mushroom and Shrimp Paprikash
Yield: 4 to 6 servings
Ingredients:
3 tablespoons unsalted butter, or 1 tablespoon unsalted butter, if using precooled shrimp
1 ½ pounds medium shrimp (35 to 40 per pound), peeled and deveined, or precooked cocktail shrimp, thawed and peeled
1 large onion, finely chopped
1 pound of button or cremini mushrooms, cleaned and thinly sliced
1 ½ tablespoons sweet paprika
¾ cup beef stock or vegetable stock
1 cup sour cream (regular or low fat, but not fat-free)
Salt and freshly ground black pepper to taste
12 ounces egg noodles, cooked according to the package directions, drained, rinsed, covered, and kept warm

2 tablespoons finely chopped parsley
Preparation:
If using raw shrimp, melt 2 tablespoons of the butter in a large skillet set over medium heat. Add the shrimp and cook, stirring often, until firm and pink, 3 to 5 minutes. Transfer the shrimp to a bowl and set aside. If you're using precooked shrimp, skip this step.
Add 1 tablespoon butter to the skillet and set it over low heat. Add the onion and cook, stirring often, until it is browned, softened, and fragrant, about 15 minutes total. At the 10-minute point, add the mushrooms. Cook until the mushrooms have given off their juices and the pan is nearly dry.
Stir in the paprika and cook for 10 seconds. Add the stock, raise the heat to medium, and bring to a slow simmer.
Add the shrimp to the skillet, along with the sour cream, and stir until well combined with the paprika mixture. Heat just until the first bubble appears in the sauce, then remove the pan from the heat. Do not let the sauce boil, or the sour cream will curdle. Season with salt and pepper.
Place the noodles on a large platter and spoon the paprikash over them. Sprinkle with the parsley and serve immediately.
---
Source: The Ultimate Shrimp Book by Bruce Weinstein [Morrow, 2002]
Photo Information: Canon T2i, EFS 60mm Macro Lens, F/3.5 for 1/30th second at ISO‑200