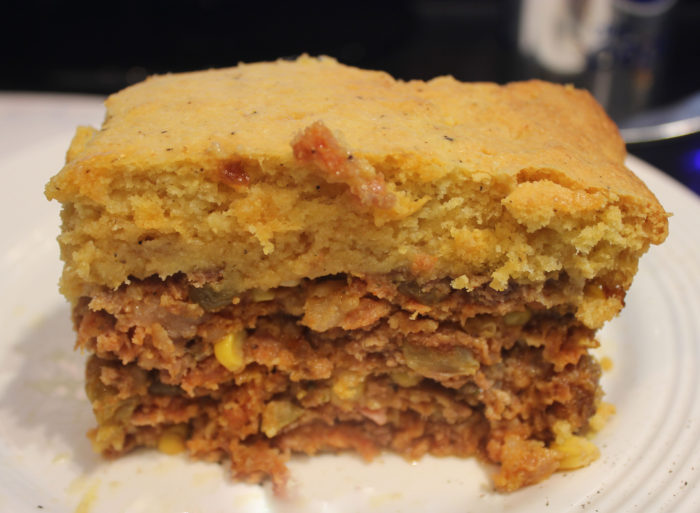 I recently reviewed a lovely book called Fifty-Two Meat Loaves. It's a book from  way back in 1993 but, hey, comfort food never dies. It just gets better and better over the decades.
Here is our first test from the book. A vibrant Cuban recipe with flavor bouncing in depth and in texture. There is ground beef, but also sausage, plus corn and red pepper and onions. And the whole shebang is topped with a sublime cornmeal crust.
Comfort food. Yes, very, very yummy comfort food. As with any meat loaf, Day 2 is better than Day 1. So even if there are only two of you and this serves six to eight, go for it. You'll love the leftovers. With beer. With Prosecco. With sangria.
---
Picadillo Loaf in a Cornmeal Crust
Yield: Serves 6 to 8
Ingredients:
¼ cup olive oil
2 cups finely chopped onions
4 garlic cloves, minced
½ teaspoon dried oregano, crumbled
¼ teaspoon crushed hot red pepper
1 pound ground beef
1 pound hot, Italian-style sausage, removed from the casing and crumbled
¾ cup canned or defrosted corn kernels, well drained
½ up fine, dry, seasoned bread crumbs
2 eggs, beaten
½ cup sliced pimiento-stuffed green olives
⅓ cup raisins
1 teaspoon salt
Cornmeal Crust (recipe follows)
Preparation:
In a large skillet, warm the olive oil over medium heat. Add the onions, garlic, oregano and hot pepper. Cover and cook, stirring once or twice, until tender, 8 to 10 minutes. Remove from the heat and cool to room temperature.
Position a rack in the middle of the oven and preheat the oven to 350 degrees F. In a large bowl, combine the ground beef, sausage, onion mixture, corn, bread crumbs, eggs, olives, raisins and salt and blend well. Transfer the meat mixture to a shallow baking dish and shape it into an oval loaf about 2 ½ inches high; smooth the top with the back of a spoon.
Bake for 1 hour. Drain off any juices from the baking dish. Spread the cornmeal batter evenly over the hot picadillo loaf. Return the loaf to the oven and bake for 25 minutes longer, or until the cornmeal crust is set and an instant-reading thermometer inserted into the center of the meat loaf registers 160 degrees F. Let the loaf rest on a rack for 10 minutes before slicing. Serve hot.
---
Cornmeal Crust
Yield: enough for a thick 8- or 9-inch square pan
Ingredients:
1 cup yellow cornmeal
1 cup unbleached all-purpose flour
2 ½ tablespoons sugar
2 teaspoons baking powder
1 teaspoon freshly ground black pepper
¼ teaspoon salt
1 cup buttermilk, at room temperature
½ stick (4 tablespoons) unsalted butter, melted
1 egg
Preparation:
In a large bowl, stir together the cornmeal, flour, sugar, baking powder, pepper and salt.
In a small bowl, whisk together the buttermilk, melted butter and egg. Add the buttermilk mixture to the cornmeal mixture and stir until just combined. Use immediately.
---
Source: Fifty-Two Meat Loaves by Michael McLaughlin [Simon and Schuster, 193]
Photo Credits [top]: Canon T2i, 18-55MM Macro lens, F/4, 1/30th second, ISO-320