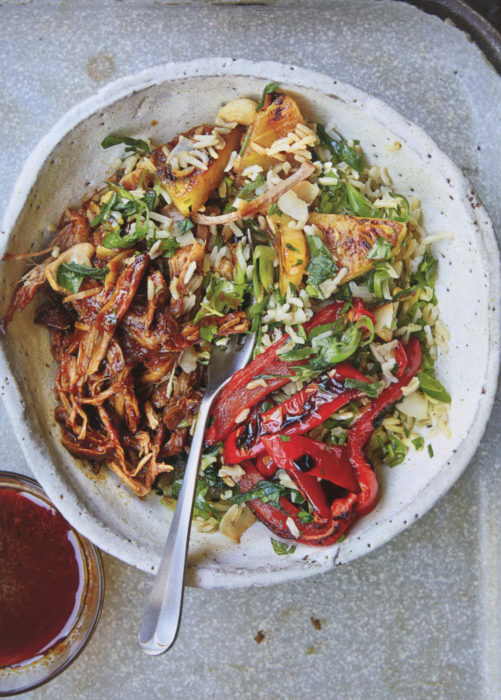 Earlier today I review Around the World in 120 Salads, a wonderful book filled with an amazing array of salad idea. Salads come in all forms in this book and this one is surely a "main course" idea. It's pork shoulder bathed in warm, sticky and very sweet pineapple sauce. Pork and sauce sit atop salad bed of rice and cashews.
This recipe offers a complex mélange of textures and flavors. It's the ideal "main course" salad and sure please your palate. And even your sweet tooth.
The suggested dressing for this salad is a classic Asian treat: Sesame Ginger Soy Dressing. The recipe follows below.
---
Pineapple and Cashew Rice Salad with Hula Pork and Roast Peppers
Yield: serves 6
Ingredients:
For the pork:
2 cups pineapple juice
2 teaspoons finely grated fresh ginger
2 fat garlic cloves, finely grated
⅔ cup soy sauce or tamari
⅔ cup tomato ketchup
4 tablespoons cider vinegar
1 to 2 tablespoons Sriracha or other hot sauce, according to taste
4 to 5-pound boned pork shoulder
3 red peppers, cut into 8 long strips
2 tablespoons extra virgin olive oil
Salt and freshly ground black pepper
For the Pineapple and Cashew Rice Salad:
1 ⅔ cups brown rice
4 cardamom pods, split open
1 teaspoon salt
¼ cup shredded desiccated coconut
¾ cup cashews, soaked in cold water for minimum 30 minutes and overnight if possible
10 ounces fresh pineapple, cut into thin thick slices
2 tablespoons coconut or extra virgin olive oil
8 scallions, sliced on the diagonal into 1-inch lengths
Handful of cilantro leaves, roughly chopped, to serve
Handful of flat-leaf parsley leaves, roughly chopped, to serve
Preparation:
Preheat the oven to 350°F.
Mix the pineapple juice, ginger, garlic, soy sauce, tomato ketchup, vinegar, and Sriracha together and season to taste. If the shoulder is tied into a roll, untie it. Put it into a large casserole dish and pour on the sauce, making sure it goes into every crevice of the pork. Put on the lid and cook for 3 to 4 hours, depending on the weight of the pork, or until it is very tender. About 30 minutes before the end of cooking time, put the peppers onto a baking sheet and splash with the oil and seasoning. Cook until lightly browned.
Remove the pork from the oven and transfer it to a board. Pour the sauce into a serving pitcher. Use two forks to pull the meat, tearing it into shreds. This can be done the day before. To reheat the meat and peppers, put them into a shallow ovenproof dish with a little of the sauce and cover with foil. Reheat in a preheated oven at 350°F for 20 to 30 minutes or until piping hot.
Cook the rice with the cardamom and salt, following the package instructions. Drain and set aside to cool.
Meanwhile, toast the coconut and cashews separately on a baking sheet in the oven (the coconut cooks more quickly) until lightly browned. Keep an eye on them as they burn easily and will be done in 5 minutes or so. This can also be done in a dry frying pan.
Toast the pineapple under a preheated broiler or in a dry grill pan until golden and lightly charred, about 7 to 10 minutes, then set aside to cool. Cut into bite-sized pieces, discarding the center core. Heat the oil in a small frying pan and cook the scallions for 5 to 7 minutes until softened, and set aside to cool. As soon as all the remaining ingredients for the rice are at room temperature, mix them together with the herbs. Season to taste.
Serve the rice salad immediately with the pulled pork and peppers and with the remaining sauce
Alternatively, cover the salad and chill in the fridge for up to a day. let the salad come to room temperature before serving alongside pork and peppers.
Sesame Ginger Soy Dressing
Yield: makes ⅔ cup which serves 8 to 10 people
Ingredients:
2 tablespoons flavorless oil, such as grapeseed, peanut, or olive
4 tablespoons lime juice or rice vinegar
3 tablespoons tamari or soy sauce
1 to 2 tablespoons mild honey, to taste
2 teaspoons grated fresh ginger 1 teaspoon toasted sesame oil
1 garlic clove, finely grated
Salt
Preparation:
Whisk the ingredients together in a small bowl or pitcher and season to taste. The dressing will keep in a lidded jar in the fridge for up to 3 days.
Variation:
Add 1 tablespoon of crunchy or smooth peanut butter to the dressing.
---
Source: Around the World in 120 Salads by Katie and Giancarlo Caldesi [Kyle 2017]