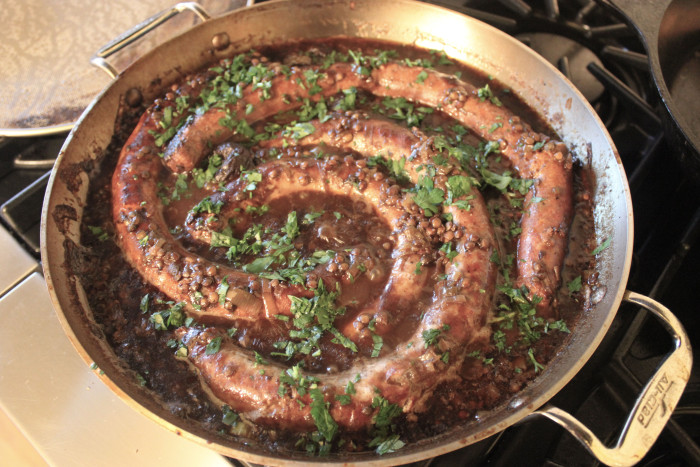 How do you feel about manipulation? I know, it's not a word with positive connotation. Who wants to be manipulated? Well, I do like a good massage, but manipulation — via advertising say — is not a good thing.
Still, we all do it. I do it. I want something from my wife, I manipulate. I don't ask her directly. I maneuver. Does that make me a terrible person? Please, don't answer. Maybe, I'll reform.
Of course, there can be a positive side to manipulation. For example, I can use it to generate surprise. Like this example.
"Hey, Suz," I began, "do you like prunes? Do you still like Guinness? Are lentils good for you? When was the last time you had pork sausage?"
She did not answer me. She just stood in front of me. Finally, she began with, "What recipe have you found, Brian."
I opened the book. I showed it to her. I was not going to twist her arm. It was all up to her.
"I'm in," she said. "We'll have to go to the store." She headed for the door. She knew I already had my car keys. She's very hard to fool
This recipe is from Lidgate's, The Meat Cookbook. You can read my review here. Lidgate's is a landmark butcher shop in London. I guess I should say butchery shop. The recipes are British and a mix of high end, reflecting their upscale London neighborhood, and more modest fare, reflecting very traditional British fare.
Here's a dish that Lidgate's actually fashioned to spotlight their exceptional sausages. We have pork sausages combined with prunes and lentils and cooked in a bath of Guinness. It's a delight, fulfilling, and sure to inspire you to try each and every recipe in Lidgate's. It's an important and wonderful cookbook.
---
Pork Sausages with Prunes, Guinness, and Lentils

Yield: serves4

Ingredients:

2 tablespoons good lard, olive oil or vegetable oil
8 meaty pork sausages
2 leeks, sliced
1 ½ tablespoons plain flour
8 ounces Guinness or other stout
17 fluid ounces chicken or pork stock
18 whole pitted prunes
3 ½ ounces firm green lentils (e.g. Puy or other small round lentils)
Squeeze of lemon juice or pinch of demerara sugar (optional)
2 tablespoons roughly chopped flat leaf parsley
Sea salt flakes and freshly ground black pepper
Preparation:

Place 1 tablespoon of the lard or oil in a flameproof casserole dish over a medium-high heat. When hot, add the sausages and brown them all over (about 8-10 minutes). You might need to do this in 2 batches, depending on the size of your dish. Set aside on a plate.
Add the remaining tablespoon of fat to the pan. When hot, add the leeks and cook over a medium-low heat until soft (about 5 minutes).
Sprinkle over the flour and stir for a minute. Pour in the stout, bring to the boil and let it bubble away for a couple of minutes. Add the stock, prunes and lentils, then return the sausages back to the dish. Add a few twists of pepper and just a touch of salt as the sausages and stock are already salted. Bring to the boil, then simmer, uncovered, for 25-30 minutes, or until the lentils are tender – they don't need to be completely soft – and the sausages are cooked. Stir a couple of times whilst cooking and check the seasoning at the end, adjusting if necessary. If the dish is too salty, a squeeze of lemon juice or a pinch of demerara can make the dish more palatable.
Scatter the parsley over the dish and serve with mashed potato.

---
Source: Lidgate's, The Meat Cookbook, [Mitchell Beazley, 2016]