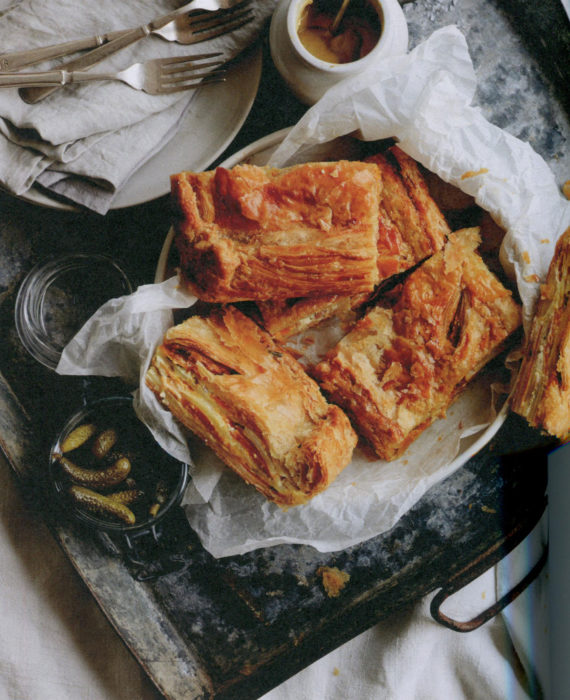 These are the weeks of pumpkin picking. We buy them, carve them, but too often fail to cook with them. Suzy Ashford wrote Le Picnic with idea for inspired picnic food. Whether you are picnicking as you pumpkin pick or just want a lovely fall dish — or a wonderful side dish for Thanksgiving — this tourte is lovely. Quickly made puff pastry is filled with ham, shallots, crème fraiche, potatoes and pumpkin. A quintessential fall meal to be sure.
For a meal, pair with a salad and white wine. For a side dish, do that 18-pound turkey!
---
Potato and Pumpkin Tourte
Yield: serves 6 to 8
Ingredients:
For the filling:
20 g (¾ ounce) butter
100 g (3 ½ ounces) jambon or smoked ham, chopped
8 French shallots, thinly sliced
2 garlic cloves, crushed
400 g (14 ounces) creme fraiche or light sour cream
1 tablespoon finely chopped flat-leaf (Italian) parsley
1 tablespoon finely chopped chives
1 tablespoon finely chopped tarragon
800 g (1 pound 12 ounces) boiling (waxy) potatoes, such as bintje or Dutch cream, peeled and thinly sliced
400 g (14 ounces) pumpkin (winter squash), peeled and thinly sliced
For the rough puff pastry:
300 g (2 cups) plain (all-purpose) flour
300 g (10 ½ ounces) cold butter, cut into 5 mm (¼‑inch) cubes
150 ml (5 fluid ounces) chilled water melted butter, for brushing
1 free-range egg, beaten
Preparation:
To make the pastry, sift the flour onto a clean work surface and make a well in the center. Use a pastry scraper to 'cut' the butter into the flour. Make a well in the middle and pour in the cold water. Using the pastry scraper, work the flour and butter into the water until the mixture holds together; small pieces of butter will still be visible. Flour your work surface, then roll the pastry out into a 15 cm x 40 cm (6 inch x 16 inch) rectangle. Fold both ends into the center, then fold in half again, as though closing a book. Cover with plastic wrap and rest in the fridge for 20 minutes. Repeat the rolling, folding and resting steps twice more. Wrap in plastic wrap and rest for a further 30 minutes before using.
Preheat the oven to 325°F.Melt the butter in a saucepan over medium heat. Add the ham and cook for 3-4 minutes, stirring occasionally. Add the shallot and garlic and cook, stirring, for 4-5 minutes, until the shallot has softened.
In a bowl, combine the creme fraiche, parsley, chives and tarragon. Season generously with sea salt and freshly ground black pepper.
Cut one-third of the pastry from the block. Roll it out into a rectangle, slightly smaller than 20 cm x 30 cm (8 inches x 12 inches). Set aside. Roll out the remaining pastry into a larger rectangle, slightly smaller than 30 cm x 40 cm (12 inches x 16 inches).
Brush a deep rectangular baking tin, measuring about 20 cm x 30 cm x 3 cm (8 inches x 12 inches x 1 ¼ inches), with melted butter. Line the tin with the larger pastry rectangle. Arrange one-third of the potato and pumpkin slices over the pastry base. Scatter with half the ham mixture, then spread half the creme fraiche mixture over the top. Repeat the layering, finishing with slices of potato and pumpkin. Place the remaining pastry sheet on top and brush with the beaten egg. Fold in the edges, then use a small knife to create steam vents in the top of the pastry. Bake for 1 ½ hours, or until the pastry is deep golden brown, and the potato is tender when pierced with a skewer.
The tourte will travel well in the baking tin, wrapped in a clean linen cloth.
---
Source: Le Picnic by Suzy Ashford [Smith Street Books, 2017]