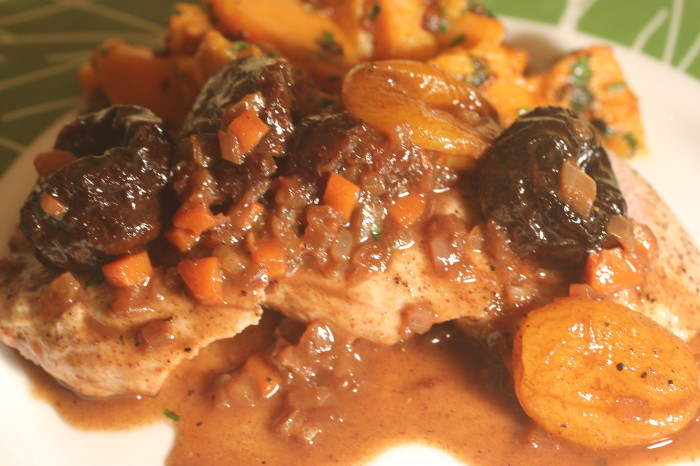 I heard a splash. I turned. Something wrapped in aluminum foil was resting in a dish of cold water.
"I took out a pork loin. Find a recipe," Suzen announced. She likes to test me.
She was testing the wrong man. I had to walk just five steps, pull Rotis from its treasured spot, and quickly hunted my porcine prey. I found a recipe with prunes and apricots to mate with her defrosting pork loin. And it all needed brown ale. This was no contest.
I walked to her, turned the book around, and showed her the recipe.
"We're doing this. Get the ale," she commanded. My wife like to give orders. I don't mind as long as I am well fed and can have other side benefits.
The temperature outside us is single digits. It's going to stay that way for days or weeks. What we needed last Sunday was a great warm meal. What you need for this Sunday and the next, I expect, is a great warm meal. This is it.
It's quite impossible to describe how perfect this dish presents and tastes. It is beautiful to behold, the scents announce it with elegance, and each bite begs for more. This dish is ideal for an evening of wine, for it can pair with an astounding variety of grapes and flavors. There is dark roast pork here, an intense sauce, and fruity notes from the prunes and apricots, plus the grainy undertones from the ale-based sauce.
This recipe is from Rotis, an amazing book by Stephane Reynaud, a Parisian-based chef and author. His previous book, Pork and Sons, is an whole hog encyclopedia. In Rotis, he presents his French meat heritage: a different style of roast for each day of the week. Thursday is pig night in Rotis, but we cheated and did make this on Sunday. It's a quick recipe, ideal for a busy weeknight. Or a Sunday so cold you just want a warm kitchen and a perfect meal.
Roast Pork Loin in Brown Ale with Prunes and Apricots
Yield: serves 6
Ingredients:
2 pound 12 ounce [1.25 kilogram] rolled pork loin
3 French shallots, peeled and diced
2 carrots, peeled and diced
1 teaspoon ground cinnamon
1 teaspoon ground ginger
2 ounces olive oil
2 cups brown ale
7 ounces pitted prunes
4 ounces dried apricots
4 ounces butter
Preparation:
Preheat the oven to 315°F.
Combine the shallots, carrot, cinnamon, and ginger and mix well.
Heat the olive oil in a flameproof roasting tin. Add the pork and brown over high heat. Add the combined vegetables and spices, then roast in the oven for 30 minutes. Baste the roast regularly with the ale.
Remove the roast and add the prunes and dried apricots. Season with salt and pepper, then return to the oven for a further 30 minutes. [Take the temperature of the roast at this point; you may not need to return it to the oven, or you may return it but not for a full 30 minutes; it depends on your personal preferences for pork doneness; another 30 minutes will give you very well done meat]
Transfer the roast to a serving plate.
To make the sauce, add the butter to the roasting tin and stir well over low heat into a sauce. Pour over the pork and serve immediately.
The sauce itself is a beauty to behold in the pan. The photo below is testament.
Source: Rotis by Stephane Reynaud
Photo Information [top picture]: Canon T2i, EFS 60 mm Macro Lens, F/5.6 for 1/20th second at ISO-1000