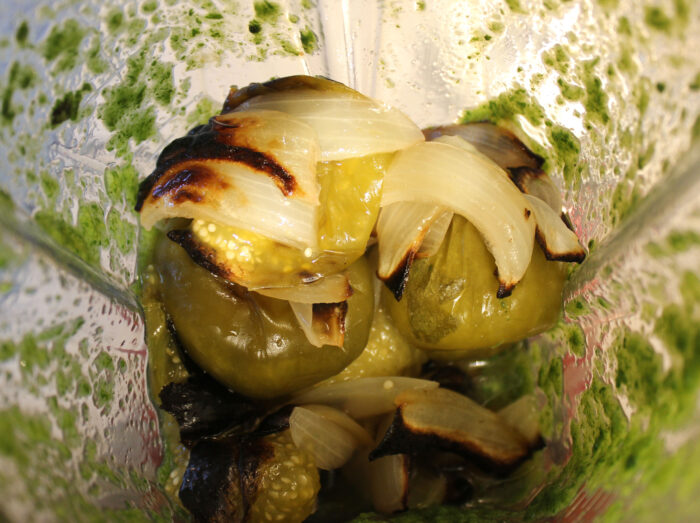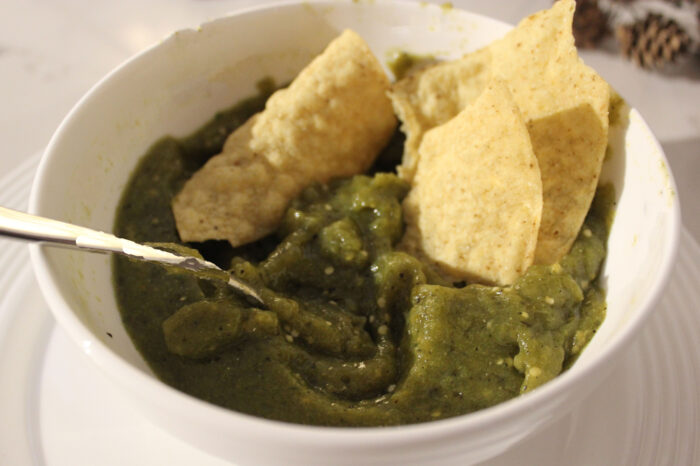 Roasted or raw? What do you with your tomatillos. Raw tomatillos in a salsa make for a sharp tang. When roasted, the tomatillo flavor is deeper with more "spread" across your mouth instead of that immediate sharp tang.
And, making salsa with raw tomatillos is faster. If you are in a hurry …
Pause. This recipe from Home Made in the Oven takes little time. Some roasting in the oven for a short time, a little blender prep and a final assembly in the blender. Easy, fast, and a joy to behold and then gobble down.
Going forward, I'm inclined to roast over raw.
---
Roasted Tomatillo Salsa
Yield: enough for one evening for 3-4 people
Ingredients:
About 20 small tomatillos (1 pound 10 ounces or 750 grams)
1 jalapeno (or more), stemmed
4 cloves garlic, unpeeled
2 to 3 scallions, chopped
1 bunch fresh cilantro (about ¾ ounce/ 20 g)
Juice of 2 limes
Pinch of sea salt
Preparation:
Husk the tomatillos and clean the sticky skin by washing them in a large pot of water. Spread out on a parchment paper-lined baking sheet. Add the jalapeno and garlic cloves and broil everything for 14 minutes, or until black marks begin to form. Turn the vegetables over halfway through the baking time.
Meanwhile, process the remaining ingredients to a pulp in a blender. Squeeze the garlic cloves out of their skins and add them to the blender, together with the other contents of the baking sheet, and blend into a thick green sauce. Store the salsa in a clean jar in the fridge, where it will keep for 1 week.
---
Source: Home Made in the Oven Yvette van Boven [Abrams, 2018]