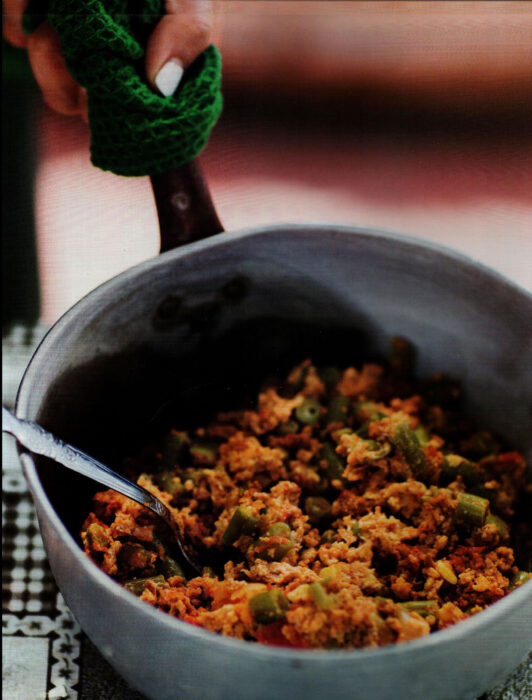 There's eggs and there's eggs. From the brilliant Tex-Mex cookbook Ama, here's a version with veggies and heat. I've never, never considered putting green beans in my scrambled eggs. And chorizo, too?
Plus, some onion and tomatoes. I guess you could expand this recipe in a variety of ways. Why not add some chopped cilantro. I suppose you could call all the way and include some pre-cooked and diced potatoes.
Spices are always optional. Chile powder, anyone?
---
Scrambled Eggs with Green Beans and Chorizo
Yield: serves 4
Ingredients:
Sea salt
3 cups (330 g) green beans, trimmed and cut into 1-inch pieces
2 tablespoons vegetable oil
1 cup (225 g) chorizo
⅓ cup (40 g) chopped white onion
2 cloves garlic, minced
1½ cups (270 g) chopped Roma tomatoes (about
3 tomatoes)
6 large eggs, beaten
Corn tortillas (store-bought or homemade) for serving
Preparation:
Bring a pot of salted water to a boil. Add the green beans and cook until the green beans are soft, about 10 minutes. Drain.
Heat the vegetable oil in a skillet over medium heat and fry the chorizo until it is cooked through, about 7 minutes. Add the onion and garlic and sauté for about 5 minutes, then add the green beans and tomatoes. When the tomatoes are softened, add the eggs and scramble until cooked to your liking. Serve immediately with tortillas.
---
Source: Ama by Josef Centeno [Chronicle, 2019]