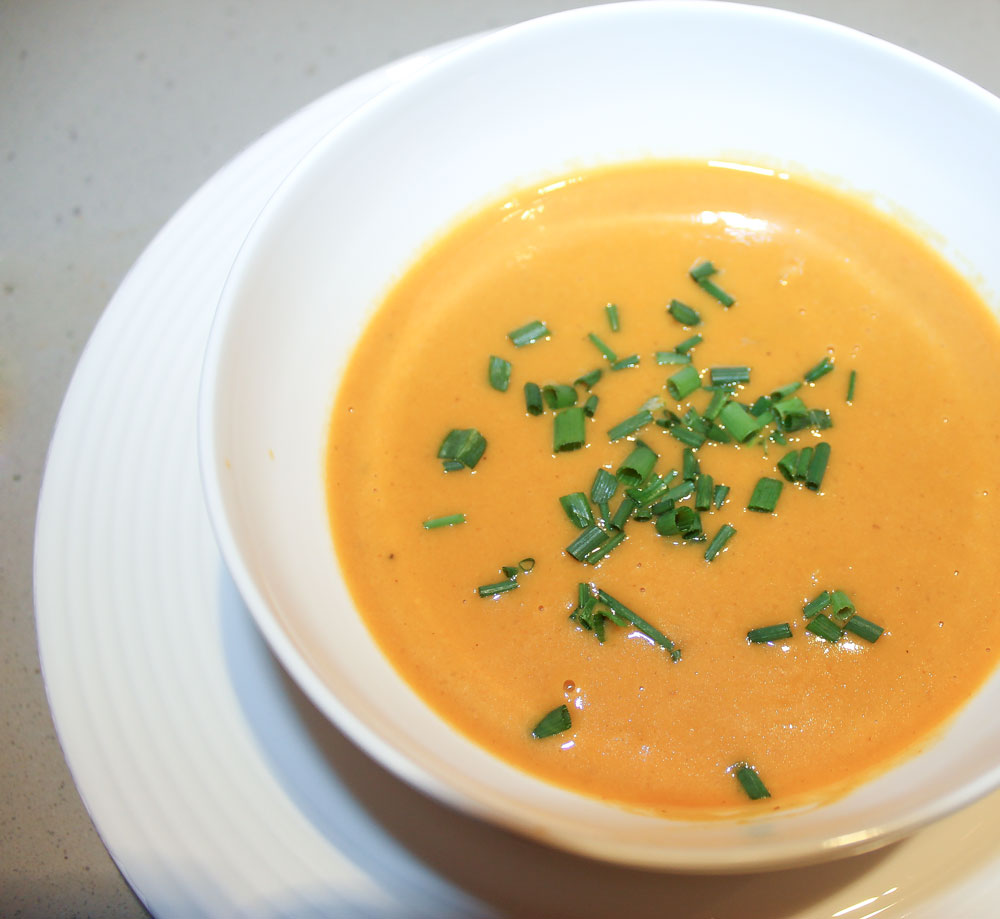 Shrimp Bisque
Yield: 8 cups, generous for 8 people
Ingredients:
• 1¼ pounds medium shrimp, shelled and deveined, shell reserved
• ½ stick unsalted butter
• ½ cup dry white wine
• 2 quarts water
• 1 bay leaf
• 3 carrots, chopped
• 2 celery ribs, chopped
• 1 medium onion, chopped
• 2 tablespoons long-grain rice
• 2 tablespoons tomato paste
• ¾ teaspoon cayenne pepper
• 2 teaspoon salt
• ⅓ cup heavy whipping cream
• Fresh lemon juice
• Chopped fresh chives
Preparation:

Cook shrimp shells in 1 tablespoon butter in a large stock pot over moderately high heat, stirring frequently, until golden. Add white wine and boil, stirring frequently, until most of liquid is evaporated. Add water and bay leaf and simmer, uncovered, 20 minutes. Pour shrimp stock through a fine sieve into a bowl, pressing on shells and then discarding them.
While stock is simmering, cook shrimp with salt to taste in 1 tablespoon butter in a large heavy pot over moderated heat, stirring frequently, until just cooked through, 3 to 4 minutes. Transfer with a slotted spoon to a bowl. Add remaining 2 tablespoon butter to pot, then cook carrots, celery, and onion over moderate heat, stirring, until softened.
Stir in rice, tomato paste, cayenne, salt, shrimp stock, and brandy and simmer, covered, until rice is tender, about 20 minutes. Set aside 12 shrimp and stir remainder into bisque.
Purée bisque in batches in a blender, then pour through fine sieve into another pot. Stir in cream and cook over low heat until heated through, do not boil. Stir in lemon juice and salt to taste.
Cut reserved shrimp into ¼-inch dice, then use as part of garnish for bisque.
Source: Gourmet Magazine [may it rest in peace]